Home
About the author
Gentleman crusader
List of articles
Books
Jamila Verghese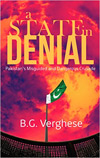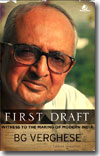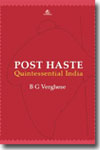 This preface from a posthumously released book (28 March 2016) on Pakistan lucidly explains why Kashmir has never been the core issue in the India-Pakistan 'stalemate'. Verghese argues that Pakistan's lack of identity and the abdication of its rich syncretic Sufi heritage have set the country dangerously adrift.
Nehru established India as a democracy, its diversity safeguarded through secular policies. He cannot be equated with a Modi. Terror attacks pull Pakistan deeper into the mire as chauvinists in India call for "firm action" and the RSS starts picking up the reins. The official message is that the little lie, the little crime, the small infraction is all right - at least for the mighty. Yet small crimes unpunished lead to greatr transgressions. Caste continues to plague Bihar as justice is flouted around India at all levels of government. The poll verdict is a crushing commentary on the utter non-performance of Rahul Gandhi. Modi must now turn to reform, tribal uplift and dealing with all Indians, equally. For a Hindu and a Muslim, an Indian and a Pakistani, to jointly receive a Nobel when the two sides have been warring brings an inspiring message. Wonderful slogans for Clean India need to be matched by infrastructure and and 21st century thinking that shuns casteism. In a week when India put a satellite into Mars orbit, the over-hyped visit of the Indian Prime Minister to New York assumed theatrical proportions. The Chinese President talked peace and investment even as a mini-war was being waged in Ladakh. There could be cross-border initiatives for peace and common good but politics has taken centre stage amidst this tragedy. The greater danger comes from the openly divisive politics of the BJP and the Parivar which is polarising the nation. The government moves swiftly to quell party rumours but remains masterly inactive on the increasingly communal tone of political discourse. Northeast India's State boundary disputes need to be speedily resolved with a fresh look at Kashmir development along the rail corridor too. Mr Modi's Independence Day address was stirring but vague and with still no mention on how he plans to reign in the Parivar from harmful communal rhetoric. Mirroring BJP's disruptive tactice, Rahul Gandhi disrupts Parliament, while Tendulkar and Rekha continue to be woefully neglectful of the Rajya Sabha. Modi endorses mythical 'rewritten' history in Gujarat schools while the Gandhis cry foul over a book by Natwar Singh. The government remains quiet in the face of growing saffron venom and new Gujarat textbooks that show Afghanistan and Tibet as part of India. The government needs to make a strong stand against Hindutva chauvinism and clear out undesirables from high office. The Finance and Railway Ministers present realistic budgets as Congress stalls in Parliament. As fundamentalism rears its ugly head abroad, and in India, the media needs to focus on real issues like the empowering Kasmir rail link, not celebrity duels. "Islamic" Pakistan was born to defend the "ideological frontiers of Islam". But it is even today unable to define the true Muslim and the plot has got lost along the way. New books shed fresh light. The rise of extremism in Iraq is a wake-up call for inclusive dialogue in Kashmir as the BJP starts reaching out. Disgraceful broadside maligning Army goes unpunished and undermines new government's lightning start. The new government has set a scorching pace in streamlining administration and neighbourly outreach. Now it should distance itself from extreme ideologues. With a streamlined government, now is the time for a Uniform Civil Code. Congress fails to weigh anchor and jettison its Gandhi mooring while Modi rightly snubs Jayalalithaa and stands firm on the Sri Lanka inaugural invite. As young voters sweep Narendra Modi into power, It is time for a Congress revamp and for Modi to rise above conservative hindutva elements. Shielding high level corruption is wrong. But mala fide complaints against honest officials should be met with swift and exemplary punishment. It appears procrastination, indecision and status quoism has once again won the day in the twilight of the ballot. None can escape admonition, but the BJP-Parivar's grammar of arrogance and hatred is particularly manifest and disturbing. In his book, Baru has only recorded history – not invented it. The PM sadly swallowed his pride so as not to let the side down. For his many friends and admirers, this was a matter of genuine grief. Citing "child-marriage" and "irrelevance" the man who would be PM keeps marriage under wraps until the Supreme Court forces light on the subject. Madhu Kishwar's apologia does not wash away the stains of the 2002 Gujarat pogrom. It's simply not cricket as poll campaigners outdo each other with undiluted vitriol across the country. The West may huff and puff over Crimea but its own policies in erstwhile Yugoslavia, Kosovo, Iraq, Libya, Syria and Afghanistan have been self-serving. The polls mark a decisive generational change and a likely end to Congress dominance, with a new profile of aspiring candidates and electors. Twenty-four years after the event, the alleged Kunnan Pospora mass rape case against the Indian Army in Kashmir has taken a new turn. The jury is still out on the next prime minister even if the 2014 electoral outcome indicates a BJP surge under Modi's leadership. The Pitroda Committee returns a useful blueprint for a renewed Prasar Bharati public broadcasting corporation but misses some key issues. Lok Sabha and Delhi politics hit a new low with pepper spray in Parliament and a rudderless capital as Aam Aadmi exits the stage. The Northeast grieves over a needless death in the capital as India feels a splintering strain – from conservative khaps to groups seeking "backward" status to move "forward". New Delhi witnessed some dangerous gamesmanship with the Delhi 'Government' sitting in protest on the streets where it attempted to transact official business. The new Delhi Government spent a tumultuous first fortnight in office leaving the aam admi both excited and bewildered. AAP hands out freebies as Modi suddenly finds his conscience and Manmohan Singh fires a sharp salvo at the BJP chief. The Indo-US spat surrounding Indian Deputy Consul-General in New York, Ms Devyani Khobragade was entirely avoidable. The Aam Addmi Party wants "outside" and "unconditional" support to be spelt out as an advance commitment to kow-tow before a supreme authority.

SPOTLIGHT
Pakistan has also to come to terms with its true Islamic heritage—a soft, humanistic, syncretic, Sufi-infused Islam, rather than the narrow, revivalist and fundamentalist Wahhabi Islam that has been imposed on its people as 'the ideology of Pakistan'
more...