Home
About the author
Gentleman crusader
List of articles
Books
Jamila Verghese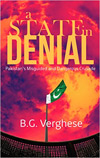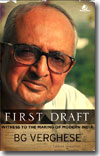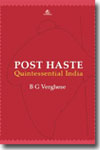 The J&K official under whose watch it purportedly happened, the District Commissioner or District Magistrate Kupwara in Northern Kashmir, a major gateway for the cross-border militancy that erupted in 1990, Syed Mohammad Yasin, has in a public rally now added a totally new dimension of villainy to the story
Kunan Poshpora:

Sad Farce

Twenty-four years after the event, the alleged Kunnan Pospora mass rape case against the Indian Army in Kashmir has taken a new turn.

By B G Verghese

Indian Express, 14 March, 2014

Twenty-four years after the event, the alleged Kunnan Pospora mass rape case against the Indian Army in Kashmir has taken a new turn. This highly propagandized human rights "violation" reverberated not merely in J&K and all of India but in the US Congress, the House of Commons, the EU Parliament in Brussels, the UN Human Rights Commission, the International Commission of Jurists, Amnesty, Human Rights Watch, etc.

The J&K official under whose watch it purportedly happened, the District Commissioner or District Magistrate Kupwara in Northern Kashmir, a major gateway for the cross-border militancy that erupted in 1990, Syed Mohammad Yasin, has in a public rally now added a totally new dimension of villainy to the story. He stated last week that he was personally offered monetary and promotional inducements by the military and civil authorities to hush up the "beastly violence" he found when he visited Kunan Poshpora. Further, the leader of the Press Council of India team investigating alleged HR violations by the Army in J&K, B.G. Verghese, did likewise, pleading "national interest" and "threatening him"otherwise!

This arrant nonsense is a belated concoction for reasons unknown. The man clearly fell short of his official responsibilities in February 1991, possibly for fear of militant reprisals that had become routine, but has now begun to roar like a lion!

The alleged rape of 23 women (the DM's figure) by men of the 4th Raj Rif headquartered at Trehgam, while conducting a cordon and search operation,took place on the night of February 23-24, 1991. The DM visited Kunan, some 10 kms from his headquarters, around March 5-6 and submitted his report to the Divisional Commissioner, Kashmir, Wajahat Habibullah, on March 7 on the basis of which an FIR was lodged at the Trehgam Police Station (four km from Kunan) on March 8.

Verghese and Vikram Rao, the other member of the PCI team to Kashmir, visited Kunan, Trehgam and Kupwara, accompanied by the Tehsildar, Trehgam, on June 8-9, by when police investigations were under way. Since the DM had completed his task three months earlier, how could Verghese cajole or threaten him to close the case. And how does a journalist threaten no less than the DM and get away with it, aided by the latter's stoic silence for 24 years! Prima facie, what Yasin now alleges is a contemptible lie.

Did the man file a report or a case against the "military" or Verghese for attempting to subvert justice through coercive or corrupt means when the issue was so "beastly" and had become a cause celebre? If he did not do so, was that not wilful dereliction of duty? Now that the Kunan Poshpora case has been reopened under popular pressure and is being heard by a magistrate, has he filed a statement in the court about this altogether new criminal offence? The Army, which is being arraigned, must summon him to give evidence and subject him to cross-examination and he must be charged with perjury if unable to produce proof or commonsense justification for rank defamation.

Look at Yasin's own record as documented in the Press Council Report "Crisis and Credibility, in the section titled "Human Rights Excesses or Exaggerations: The Indian Army in Kashmir". As DM, he reported "hearing something" about Kunan on March 3-4. He visited it a couple of days later and conclude that 23 women had been brutally gang-raped. Why did he not go sooner? Heavy snow? But everybody else, seemed to be on the move. When Wajahat Habibullah went to Kunan on March 18 with the DM in tow, the rape figure rose to 40 and then 53. Later estimates went to 60, then 100, then every single woman in the village. It was clearly open season! Habibullah found the Kunan story greatly exaggerated.

The PCI team found the Kunan story to be at best a gross exaggeration but more probably a massive hoax, an act of psy-war to keep the Army, newly inducted to deal with militant-jihadi-azadi uprising, at bay. There were contradictions galore. Nothing added up. The medical examination was only conducted three to four weeks later on March 15 and 21 when 32 women were examined. Why this inordinate delay? The evidence cited was anecdotal not medical. No medico-legal report was filed as required.

The Kunan women contradicted themselves on each telling to different interlocutors, the media and to us. Jangti, mother of Zafira, a full-term pregnant victim, told us that the girl was raped by three men, kicked in the stomach and delivered a bay with a fractured arm in the Kupwara district hospital three days later. She herself jumped out of the window and lay wailing all night in the snow until discovered by the police escorts around 4 a.m. However, the DM's report stated that Zafira had delivered her baby three days before she was assaulted. Zafira could walk to the Kupwara hospital in her condition but the DM was snowbound and unable to leave his house during this same period!

Two police escorts are required to accompany military units on cordon and search operations and are required to submit a report on return. Accordingly, constables Abdul Ghani, who hails from Kunan, and Bashir Ahmed accompanied the 4th Raj Rif team from the Trehgam thana. The PCI team examined them. Both said they hear screams and cries of agony throughout the night but did precious little. They signed the required NOC before the Raj Rif left the village on the morning of Feb 25 and subsequently failed to submit any report on their assigned mission back at Trehgam. No one questioned this glaring omission though everybody was agog over the Kunan "atrocity".

Abdul Ghani, the policeman from Kunan, went home two days later. He knows everybody in his own village. Yet though he spent a whole day there nobody, not even his own family, spoke of the mass rape, nor did he attempt to make any inquiry whatsoever. Extraordinary!

Despite the terrible "atrocity" committed by 4th Raj Rif, women and children from Kunan never stopped attending the unit's weekly medical camp in Trehgam. We met some of them during our visit in June. They said it was only here and not in the Government health facilities that they got real care. This too says something.

Before departing Kunan, we were treated to a harangue on the UN resolutions on Kashmir, self-determination, India's duplicity and military high-handedness, by a so-called teacher, an ideologue obviously not from the village. This highly political and polemical finale told us what the "Kunan story" was all about.

After being made aware of these many contradictions, blatant procedural and legal lapses, wilful inaction and lack of follow-up we were later handed a video cassette in Delhi by a leading human rights activist obtained from unknown sources that recounted the entire Kunan episode in graphic detail by 25 women, all well groomed, and some men, and finally by the same teacher Muzaffar Ahmed, who delivered the same harangue we had heard personally. The foliage on the trees suggested the film was made sometime in April, five to eight weeks after the event. Who would make such a staged video and why? Which "rape victim" in conservative rural Kashmir, would recount and relive such a horror story in public for a world audience! The Press Council has the cassette.

If 23, then 30, then 40, 60, 100 and then all the women in the village claimed or were said to have been raped it could only be to shield one or two victims behind mass anonymity. But the stories retold and the video recording tell something else. Now it is said nobody wants to be married into Kunan Poshpora on account of the social shame it attracts. Tragically, the village has punished itself while the militants exploit their predicament!

The PCI Report is the most exhaustive and detailed report of the alleged Kunan Poshpora incident made by the J&K Government, Army, Police or anybody else. Sadly it was and is widely criticised to this day without critics having read it or controverted its substantive findings. The mainstream Indian media had shamefully fled the scene in 1990-91 and there was an information vacuum that was largely filled by gun-wielding militants who sprouted lies.