Home
About the author
Gentleman crusader
List of articles
Books
Jamila Verghese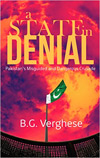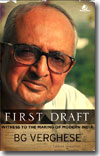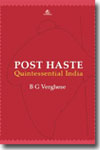 The Line of Control is today an inescapable ground reality. Both sides need to abandon absolutist positions and find the middle ground


On your marks,

get set...but go forward.

India and Pakistan circle each other, again. It's time now to find that middle ground and move forward.

By B G Verghese

Times of India, July, 2003

Indo-Pakistan relations have moved a step forward with the two High Commissioners readying to take position amidst an exchange of visits by parliamentarians and businessmen. The Indian peace process continues quietly with ongoing visits to J&K by the Prime Minister's emissary, N.N.Vohra, while Pakistan has effected another partial crackdown on some of its jehadis even as leaders on both sides have been on foreign pilgrimages. Meanwhile, there have been the usual negatives together with grandstanding and crystal gazing on all sides. All this is par for the course.

However, two statements in the interim merit closer attention. Vajpayee said in Berlin that a resolution of the Kashmir question would require "serious compromises" in the interests of peace, which the people of J&K both desired and deserved. Soon after, Advani told a Chicago audience that "there has to be some give and take to achieve peace" but thought would have to be given to what kind of compromises might be possible. Musharraf, in turn, has reiterated a four-step formula: talks between India and Pakistan; acceptance of Kashmir as a dispute; elimination of alternatives not acceptable to either side and the people of J&K; and discussions to hammer out a settlement. This suggests an effort at graduated public education on both sides on the need to abandon absolutist positions in favour of the middle ground. Such a proposition, formally asserted, would probably fetch stern official denials as leaders across the board, especially in Pakistan, are hostage to past rhetoric.

The extremist opposition is of course shrill. Witness the tantrums of the Sangh Parivar, including BJP ideologues, and the ever divided Hurriyat in India and the religious right, the jehadis and JKLF in Pakistan. These elements are essentially made up of straw men. They are blood brothers whose antics and petty animosities cannot prevail provided the centre holds. There is certainly an "if" here. But an incoming peace tide could bring rich dividends and lift many boats if taken at the flood.

The Pakistan thesis that J&K "belongs" to it by the logic of the two-nation theory, is sophistry


Where could this middle ground lie? Quite obviously there has to be a descent from the clouds of euphoria to ground reality, which has long been shrouded in myth and misperception if not plain dissimulation. The Pakistani thesis that J&K "belongs" to it by the logic of the two-nation theory is sophistry. If that were so, there would have been no referendum in the NWFP; nor would the Chittagong Hill Tracts and Khulna district have gone to (East) Pakistan? If Pakistan disowns the India Independence Act enacted by Britain, it destroys its own legitimacy. The Princes theoretically became sovereign on the lapse of paramountcy and were given the right to opt for either Dominion. Despite a Standstill Agreement with it, Pakistan invaded J&K (1947-48) while strenuously denying this as it again did repeatedly in 1965, through all the years of proxy war, and over Kargil (1999). The world has always known otherwise and authoritative Pakistani spokesmen and UN/international observers have documented the facts abundantly. But frontline states forever tend to enjoy immunity with impunity.
However, the reality is that J&K legally acceded to India on October 26, 1947 but remains a divided state. The first injunction of the governing UN resolution of August 13, 1948, that Pakistan — the invader — and its proxies withdraw entirely and completely from J&K, was breached ab initio. Now neither war nor proxy war nor interested "mediation" nor gratuitous cartographic fabrications (as in the Siachen sector – recently corrected by the US after 25 years) can partition India a second time.
The LOC is today an inescapable ground reality. Recognising this, the chairman of Pakistan's Kashmir Committee, Sardar Abdul Qayyum Khan was quoted some months ago by the Urdu daily "Khabrian" as saying that the proposal to convert the Line of control into a permanent boundary merited serious consideration. This view has been denounced by Musharraf who has described the LOC as the core problem rather than the final solution. He must of course keep saying this until the last, just as the Indian leadership will continue to insist on India's de jure claim to POK and the Northern Areas till a lasting settlement is negotiated. For reasons of face, Musharraf also finds it necessary to defend the Kargil misadventure that, if anything, has hardened the de facto sanctity of the LOC.
Offer [Musharraf] a carefully calibrated exit by making his strategic options our own. Risk? Limited. Gains? Unlimited


What could be an acceptable Pakistani option within the ambit of Musharraf's four-step framework? J&K is on the agenda of prospective talks: it is a "dispute"; but it is the nature rather than the fact of the dispute that has been so long in question. Some have mooted the so-called Chenab solution, that is, partition of the State along the Chenab river thereby effecting a broad religious divide. This would more or less deliver to Pakistan what Prime Minister Jamali calls its "economic lifeline". Why or how this should be so is unclear when the Indus Treaty fully safeguards the country's water rights.
However, a religious divide by whatever stratagem is anathema to India, which, notwithstanding recent aberrations, remains a highly plural and democratic society. The Chenab solution was proposed and rejected decades ago.
Other alternatives mooted include regionalisation, UN trusteeship, independence, and international mediation. None of these will work. The LOC itself, with adjustments, can be justified not merely because it is there but also because it represents a fairly well defined ethnographic and linguistic divide. The Pakistani argument that this gives them nothing despite many years of grief, is mistaken. A settlement on the LOC would legitimise Pakistan's presence in POK and the Northern Areas, end an eyeball-to-eyeball military confrontation that has done no good to anybody and enable it to put finis to religious extremism and military rule that have undermined the liberal Pakistani state of Jinnah's dreams.
Further, what matters is not so much the fact of a boundary as its nature. A friendly, peaceful, "soft" boundary would admit of easy and simple access to either side for social and cultural exchange, tourism, commerce and investment and collaboration in various fields. Joint or common institutions would be necessary for the management of these relations. Over time, this could lead to overarching institutions and shared investments in a number of areas such as tourist promotion, connectivity, an Indus-II (to realise the full potential of this great river system to mutual benefit), environmental management and even joint defence.
Common consultative mechanisms could be devised to oversee such conjoint activities. With incremental devolution of a large measure of autonomy to the constituent units and regions on either side of J&K, both Pakistan and India would achieve access to and participation in some part of governance of the "other side" in an evolving condominium-like arrangement. SAARC would emerge from the shadows and an Asian Community need no longer remain a forlorn hope. Both sides would gain in relation to the status quo while the people of J&K would enjoy the best of all worlds.
Tourists are pouring into J&K. There is need to press forward with the internal peace process. This is critical. A real window of opportunity is opening and invites bold initiatives towards a comprehensive resolution of the J&K question. Musharraf has said Pakistan mistrusts India. Indians too might say the same of Pakistan, especially under Musharraf who has spoken, denied and spoken again of more Kargils, "unconventional war", "freedom struggles" and moral support to the jehadis. But he also talks of making Pakistan a modern, democratic, liberal society. What for him earlier were clever or involuntary tactical adjustments after 9/11, are perhaps now hardening into preferred strategic options.
Despite all the bluff and bluster, he has little room to manoeuvre and is bogged down in contradictions and an uncertain LFO. Will the military get off Pakistan's back? Not easily. But Musharraf could maybe just make that happen if we were to offer him a carefully calibrated exit by making his strategic options our own. Risks? Limited. Possible gains? Unlimited.