Home
About the author
Gentleman crusader
List of articles
Books
Jamila Verghese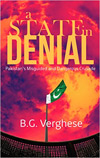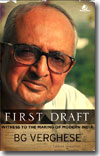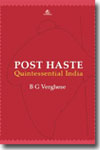 Conversion by force is not acceptable. None will deny that and there is no evidence of this. How is religious conversion any different in principle from conversion from one ideology or political persuasion to another?
Wrong Premises

, False Starts

The Supreme Court reduces the sentence of death on Dara Singh, found guilty of burning alive Graham Staines, an Australian missionary, and his minor sons.

By B G Verghese

Deccan Herald, 24 January, 2011

The Supreme Court has passed an extraordinary order in confirming the Orissa High Court's ruling reducing the trial court's sentence of death on Dara Singh, found guilty of burning alive Graham Staines, an Australian missionary, and his innocent minor sons aged 10 and six, some years ago. The Court upheld the death penalty only in "the rarest of rare cases" but extenuated the murderer's intent "to teach a lesson to Graham Staines about his religious activities, namely, converting poor tribals to Christianity". This is an appalling statement and should be expunged or reversed by a larger bench as it gives license for rage killings to teach anybody a lesson.

The Court went on to say that conversion by force was not acceptable. None would deny that, and there is no evidence of this in the Kandhamal case. This apart, conversion by conviction is permissible under the Constitution. How is religious conversion any different in principle from conversion from one ideology or political persuasion to another? Several states have adopted quite bizarre anti-conversion (Freedom of Religion) laws that call for certification of bona fide conversion by a magistrate. Yet, such movements as ghar vapasi and conversion of tribals to Hinduism are permissible and considered part of the natural order of things.

Another unfortunate episode is being crudely enacted in Karnataka where the Governor has taken another hasty step in what seems a campaign against the Chief Minister. Such partisan politics is an outcome of Governors being appointed as, or too readily playing the role of, hatchet men. Not that the CM is an angel. His administration was recently exposed on charges of corruption by the Lok Ayukta, whose wings have since been clipped through a parallel inquiry ordered by the Government, which it is feared the CM could manipulate administratively. An earlier Party revolt against Yeddyurappa's corrupt ways was overcome through dubious means. The BJP, which once favoured the CM's removal, is now backing him to the hilt as it tilts with the Union Government on issues of corruption and misgovernance.

Nothing daunted, the party chief, Nitin Gadkari, has proffered the amazing defence that Yeddyurappa's action in denotifying land to allot this to members of his family "is immoral, but not illegal". What a travesty of justice and standards in public life! His stance is not improved by pleading that previous CMs have done likewise. If this is the motto of the party, then it can only attract scorn and condemnation. The BJP may contest the Government's order sanctioning prosecution of the CM but it erred in staging a day's statewide bandh in protest against the Governor's action. Both sides have sent out wrong signals.

Meanwhile, the Supreme Court was unduly harsh on Kapil Sibal, the Telecom Minister, for speaking out against the CAG's "erroneous" calculation of a Rs 1760 lakh crore loss on the 2-G Spectrum allocation. Given the raging debate on this subject from public platforms and in the media, there is no reason to suppose that the CBI and other investigative agencies will be unduly influenced by the Minister's observations. Sibal is right in protesting that the Government was prevented by the Opposition from presenting its case in Parliament and therefore went directly to the people. This is unexceptionable, though some may argue that the Minister could have toned down his remarks.

The Public Accounts Chairman, BJP's Murli Manohar Joshi too protests too much in complaining to the Speaker about the alleged impropriety of Sibal's criticism of the CAG. Considering that the CAG's report was leaked and widely debated in public by the BJP and others well before being presented to Parliament, Joshi's concerns are misplaced. In fact his own party forced him to recant his view that a JPC, as sought by the BJP, was unnecessary. The facile manner in which political parties adopt double standards has ceased to surprise.

The Prime Minister in turn has pleaded double taxation treaty confidentiality in disclosing the names of secret Swiss and Liechtenstein bank accounts that have come into possession. This is a technically correct stance but it begs the question why the Government has studiously failed to "ratify" and operationalise the UN Convention Against Corruption, which it signed two years ago. This is a powerful instrument for preventing and investigating corrupt practice through money laundering and keeping the proceeds of illicit transactions in foreign bank accounts. It also provides for joint investigations, freezing of bank accounts and extradition of accused persons. The tardy progress in legislating a Lok Pal Bill without watering down its provisions, as reported, is also inexplicable. None of this inspires confidence and gives credence to charges that suggests the Government has something to hide.

Finally, the ongoing battle between the National Advisory Council, headed by the UPA chairperson, and the Government and its Council of Economic Advisers on how best to proceed with the proposed Food Security Bill and amendments to the RTI Act is cautionary. Debate is legitimate but it would not be prudent to push beyond a point. Power cannot be divorced from responsibility and an elected government must remain accountable to Parliament and the people and not to any other unelected or Party body in a parliamentary democracy. It must never be assumed that the tail can or should wag the dog. This is not to pronounce on the merits of the case but to underline due process.