Home
About the author
Gentleman crusader
List of articles
Books
Jamila Verghese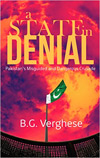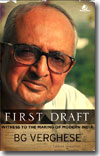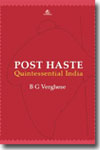 These are positive signals that demand early responses and bold initiatives taken in consultation with the Government and Opposition both in Delhi and Srinagar so that all relevant players are kept in the loop.


Grand Reconciliation

not Utopian

The "grand (Indo-Pakistan) reconciliation" that Pakistan's Foreign Minister ventured to project is no utopian ideal. There are positive signals.

By B G Verghese

Tribune, 26 May, 2008

A "grand (Indo-Pakistan) reconciliation" that Pakistan's Foreign Minister, Shah Mahmood Qureshi and Pranab Mukherjee ventured to project in Islamabad last week is no utopian ideal. India wisely put aside recent negatives such as Pakistani infiltration attempts and firing across the LOC while Qureshi said Pakistan was open to "innovative ideas" that can resolve the J&K tangle, thereby by-passing the Pakistan PM's rhetorical brushing aside of the Manmohan-Musharraf road map for J&K as "half-baked" and a departure from past UN Resolutions. Further, the Pakistani side agreed that opening up economic relations, including trade and investment, should not be hostage to a J&K settlement but could, rather, create mutual stakes in goodwill and cooperation that would promote reconciliation.

These are positive signals that demand early responses and bold initiatives taken in consultation with the Government and Opposition both in Delhi and Srinagar so that all relevant players are kept in the loop, not excluding the Hurriyat. It would be fatal to listen to old diehards who fear an outbreak of peace as this would be treading unfamiliar ground and would make them redundant. If India takes the lead, Pakistan is likely to follow. The internal and external situation there is such that a rapprochement with India offers it the best hope of political and social stability, reform and lasting development.

It was said at Islamabad that Dr Manmohan Singh would visit Pakistan this year "after sufficient progress "has been made. True enough, summit meetings yield best results given due preparation which can be done through internal dialogue at home and back channel consultations with Pakistan. But since Indo-Pakistan "preparations" can go on for ever and Pakistan faces some tricky post-election coalition and political issues, a unilateral Indian initiative should not be ruled out. It could set the tone and basis for further advance and compel Pakistanis to confront the fact that good relations with India can play a hugely significant part in resolving their constitutional, ideological, religious military and economic problems at home. Just take General Kayani's latest pronouncement (through an aide) that while the Army is now a-political "the nation has an aspiration on (sic) Kashmir and the military will play a role to fulfil it as per the UNSC resolutions". This is nothing but playing politics and underlines the fact that the raison d'etre for the Army's bloated size and overweening influence is to be Pakistan's shield against "India". Likewise, religious fanaticism, witness Salahuddin, chief of the United Jehadi Council's threat to "wage war in Islamabad and Lahore" if there is any "retreat" on Kashmir. How can Pakistan be rid of this conjoint incubus unless it settles with India.

What can Dr Manmohan Singh do? Without waiting for the abortive Autonomy Task Force to report, it should take up the National Conference J&K autonomy report of 2002 and the more recent PDP "self-rule" paper to promote dialogue within the State and in the rest of the country. There is nothing particularly radical about Mehbooba Mufti's formulations about re-designating the CM as Sadr-i-Riyasat, who should be elected by the state legislature or establishing a regional council representing both sides of J&K (in due course and whose role and powers could be suitably defined with strict reciprocity vis-à-vis the other side). Nor about the use of both Indian and Pakistan currencies in all of J&K (an arrangement partially akin to what subsists with Nepal and was earlier extant between India and the Gulf region). After all, Pranab Mukherjee and Qureshi have been taking about cross-LOC trade and investment in J&K while both sides are committed in principle to moving through SAFTA towards a South Asian Community and common currency. This may be a distant ideal but could be realized more readily in J&K. After all Jawaharlal Nehru and Sheikh Abdullah had propounded the idea of a "confederation" under twin sovereignties for J&K in 1964.

Dr Manmohan Singh has also spoken of possible joint cooperation in developing the further potential of the Indus basin as a single system to optimise mutual benefits (at a time of mutual uncertainty and peril with climate change). Why not now concretize this is suggesting a joint study of the Kishenganga/Neelum Valley projects being formulated by Pakistan and India in J&K and their twinning for enhanced benefit? Add to this the offer of extending the Udhampur-Baramulla railway to Muzaffarabad – and then down the Jehlum Valley to Pakistan.

Initial consultations between the PM and Vajpayee/Advani, Ghulam Nabi Azad, Farooq Abdullah and Mufti Sayeed and a few others on such an agenda could set the ball rolling. The back channel too could be activated. But India should not hesitate to declare its hand in due course, if necessary, and compel wider debate on both sides so that the world knows where it stands and where the impediment, if any, lies.

Pakistan has one well to enter into a peace agreement with the Taliban in the NWFP and Swat, where a NAP-led coalition is in office. This may have its perils but could yield larger gains. No military solution is possible or will be popular. The Americans/NATO are fighting the wrong war in Afghanistan too and threaten to reduce that country into another Iraq. A more promising answer to the Afghan imbroglio lies in Pakistan, India, Iran, Tadjikistan, Turkmenistan, Russia and China, with UN, US, EU and Japanese participation as observers, taking a lead in forging a regional solution for peace, stable governance, development and modernisation in which the Iran-Pakistan-India and TAPI gas pipelines could play a catalytic role, displacing poppy cultivation and drug-running, abductions and extortions as economic drivers. Tadjik hydro-power could also be fed to Afghanistan and Pakistan. Karzai may not be unwilling. Transit for India to Afghanistan and joint investments in this new SAARC member could be part of the package. The gain for Pakistan would be returning tranquility in Afghanistan and the withdrawal of American forces from Pakistan. All this constitutes a hard nut to crack but has a far better chance of success than continuing mayhem.

This could the kind of road map that India should now be working on. Some might suggest that this is not the right time for such "adventurous" thinking with general elections approaching in the country and within J&K. Indeed, this makes such an initiative more urgent so that the country might unite on a broad national/J&K consensus on the way forward and not vitiate the atmosphere further through divisive and fractious electioneering in and over J&K and Indo-Pakistan relations.