Home
About the author
Gentleman crusader
List of articles
Books
Jamila Verghese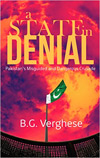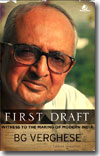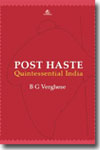 Negativism, to which many are addicted out of frustration, must not lead to rejection and violence that question or weaken the democratic edifice of the nation – a priceless asset. In a country of such vast diversity
Don't

bring down the tree

A year wasted, but what next? Embrace growth, reject non-cooperation. Negativism must be avoided at all costs if we are to shape a more positive future.

By B G Verghese

Deccan Herald, 29 January, 2012

Republic Day was celebrated this year in the presence of the Thai Prime Minister who is young enough to make many of our vaunted "youth leaders" look old. There is a message here that must be noted. Timely words were otherwise spoken by the President in her broadcast to the nation. We must be cautious, she remarked, "that while shaking the tree to remove the bad fruit, we do not bring down the tree itself". The reference was not merely to the somewhat anarchist tendencies unleashed by the Lok Pal matter but to a wider tendency impatiently to throw out the baby with the bathwater by adopting extreme positions on a variety of reforms and current issues.

Negativism, to which many are addicted out of frustration, must not lead to rejection and violence that question or weaken the democratic edifice of the nation – a priceless asset. In a country of such vast diversity and varied levels and trajectories of development, extreme views should yield to the middle path of consensus, eschewing both status quoism and revolution.

In two more cases of cultural bigotry, a Pune university was forced to withdraw screening of an allegedly "separatist" Sanjay Kak film on Kashmir by ABVP rowdies while Shiv Sena goons vandalised the Times of India office in Mumbai for an innocuous report that a Sena politician might defect. The Jaipur LitFest, an otherwise great success, was marred by the Rushdie controversy. Conservative elements were once again allowed to swamp liberal opinion. The Satanic verses have long been banned in India but not the person of its author. Nobody stopped his going to Jaipur but tensions had built up and official advice to the LitFest organisers of a possible attempt on his life by hired hit-men caused him not merely to call off the visit but also to abandon the idea of speaking via a video-link from London.

The Central and Rajasthan governments were gratuitously blamed not only for "failing" to guarantee Rushdie protection but for floating a canard to scare him away while wooing Muslim votes in the ensuing state elections. This seems a kneejerk reaction. Had the authorities kept quiet and something untoward had happened, none would have spared the Government for knowingly allowing disaster to strike even after an albeit vague intelligence warning. When the Government did pass on the information, leaving the choice entirely to Rushdie and the organisers, the same critics now blame it for "censorship" and exploiting vote-bank politics. This is heads I win, tails you lose, and not for the first time. Too many people want to have their cake and eat it.

To scorn the pursuit of "high growth" and yet want the government to enlarge and enhance subsidies, to demand employment but retard investment, to seek better governance but prevent reform, to shed tears for displacement because of development but yet ignore the far larger displacement caused annually by distress migration for lack of development-created jobs, are all symptomatic of distorted priorities and confused minds. Similarly, while applauding China, Singapore and others for accomplishing things that we would wish to emulate, we shy away from the pragmatic decision-making that these achievements entail. Those who criticise UPA-II for standing still, paralysed by scams, should also count the number of reforms blocked by paralysing Parliament over the past 18 months, largely on grounds of partisan politics without much thought for the national interest.

This attitude of "non-cooperation" must change in 2012. Coalition politics has played out in all the wrong ways. There is blackmail on one side and failure to consult one's partners, let alone the Opposition, meaningfully and in time on the other. There is too much of talking at one another rather than with one another. And there is little doubt that the Government has been adrift. Hopefully, all sides realise the high cost of a wasted year. None has gained. The nation has suffered.

Unfortunately, the current five-state polls that have commenced have gone the old way. Too many criminals have been given tickets and many parties are almost at a state of war with the Election Commission which has, as before, sought to plug new loopholes and maintain a level playing field for all. Nevertheless, the degree of brazen defiance of basic norms is worrying. The return of assets filed by several candidates shows extraordinary growth since their last statement of wealth was filed. Many contestants have no PAN card and have never paid income tax. All this once again underlines the urgency and salience of electoral reforms.

The resounding defeat India has suffered at the hands of Australia in the four-Test series just concluded in Adelaide also carries a message. Indian cricket has moved away from the game to minting money, politics, strange alliances and individual glory. For the past year, Tendulkar's century has loomed larger than an Indian victory. Fatigue and injuries tell their own story of "market" pressures to play without resting, reduce cricket to a milch cow for organisers to get richer and strut around with false pride. The media has played a notable role in massaging egos and joining others in hyping gamesmanship more than the game.

Meanwhile, the Supreme Court has once again come down on the Gujarat Government for its dilatory and obfuscating tactics with regard to post-2002 fake encounters. The monitoring committee under a retired Supreme Court justice, M.B. Shah, appointed in April 2011, has been authorised to select investigators, from outside the state if necessary, in order to expedite matters, and to report back to the Court in three months. The net is closing in on Narendra Modi and one can discern growing nervousness, dressed in bravado, on the part of Modi apologists in the Gujarat government, BJP and VHP. Justice Nanavati still plods his weary way to a conclusion on what is by now a highly flawed commission that pretended to offer certain final conclusions in its preliminary report a year or two ago, even as the truth is still unfolding.

Finally, on the other side of the border, it is worrying to note that yet another coup was plotted by elements in the Bangladesh army against Sheikh Hasina, though it was averted. Her "crime": being allegedly pro-Indian. It was a nice gesture on her part to visit Agartala to thank the people of Tripura for hosting so many traumatised refugees in 1971. It is now for India to act swiftly and more boldly to fulfil its part of the Indo-Bangladesh agreement on completing the land boundary agreement and ensuing better border management, trade facilitation and water cooperation among other things. Bangladesh is delicately poised and both countries need to act to support and build a relationship of harmony and cooperation that is in their mutual interest.

In Pakistan, the jury is still out, but the civil government has thus far stood up to the military and must be applauded and diplomatically supported in upholding a still-tenuous parliamentary democracy.