Home
About the author
Gentleman crusader
List of articles
Books
Jamila Verghese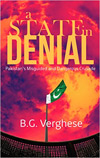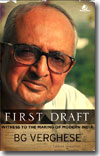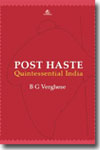 There is every reason for the two countries to cooperate in developing the potential of their common rivers and in confronting the challenge of climate change which does not respect national boundaries.


And Quiet Flows

The Barak

India and Bangladesh need to find common ground on water sharing. Tipaimukh dam will moderate floods and aid fisheries, navigation, and salinity control.

By B G Verghese

Indian Express, 8 August, 2009

Having suffered a major electoral defeat in Bangladesh's general elections held after a two year interregnum, the BNP and Jamaat appear to be looking for a handle with which to beat the Awami League government. They have found one in the Tipaimukh dam in Manipur on the Barak/Meghna, which is awaiting financial closure before commencement of construction after long years of gestation. Bangladesh has not to this day been able to use its share of lean season flows under the 1996 Ganges Treaty for the intended purpose of resuscitating the Gorai and saving Khulna from "desertification". Meanwhile, agreement on Teesta sharing awaits Dhaka's consent even after two years to joint measurement of some controversial discharge observations made by it that cannot be logically explained. Altogether, this seems to be a sorry case of river blindness affecting millions.

The Barak rises in India's Northeast and flows into Bangladesh to form the Meghna. The river is flood prone and submerges the Sylhet depression for many months, though this renders it a valuable fishery. When the Indo-Bangladesh Joint Rivers Commission was formed in 1972, Dhaka took the initiative to request an early solution to the Barak/Meghna floods. In one of its earliest initiatives, the JRC undertook a joint survey of the Barak as a result of which the 162 m high Tipaimukh dam was proposed with a storage of 10 billion cubic metres (larger than Bhakra) to moderate floods and generate power (1500 MW capacity). Interest thereafter moved to the Ganges and Teesta. With security problems in India and inter-state differences and internal controversies over submergence and displacement in Manipur, progress was stalled until more recently when momentum revived following a resolution of most problems on the Indian side. However, the idea of a downstream barrage and associated irrigation was abandoned and Tipaimukh emerged as a purely flood moderation-cum-power project.

Critics in Bangladesh have for some years argued that Tipaimukh will be an environmental disaster for that country. Fears include enhanced salinity ingress from the sea, greater erosion, less silt deposition, reduced fish runs, summer flooding through augmented lean season releases, possible danger from any opening of the flood gates in case of heavy rains, and dam safety concerns from high seismicity. There is also concern at the absence of a water sharing agreement What are the facts?

Since no water is proposed to be abstracted, no issue of water sharing arises. The Tipaimukh dam, 210 kms from the Bangladesh border, will only regulate half the river's 25,000 sq km catchment. The lower catchment in India is watered by a number of tributary streams that will remain unregulated and, incidentally, provide ample fish runs. The dam will reduce the June to October flood flows from an average of 2021 cu m per second to 1648 cumecs or by 20 per cent while average summer flows passing through the turbines will rise from 282 cumecs to 537 cumecs or almost double. Thus the dam will moderate floods and aid fisheries, navigation, and salinity control during the lean season. As for summer flooding, the post-dam average lean flow will be less than the maximum low season flow of 852 cumecs, though above the lowest average discharge. As for seismicity, the Tehri dam has withstood shocks of up to 7.5 magnitude on the Richter scale (the Uttarkashi and Chamoli quakes) while Tipaimukh is being designed to withstand earthquakes of up to 8.5 magnitude. Any dam break or massive flood through opening the floodgates would first affect or devastate the 210 km lower catchment in India before anything happens to Bangladesh. So India will perforce be wary of design and operational deficiencies.

India is proceeding on the basis of "equity, fairness and no harm to either party" embodied in the Ganges Treaty as general principles governing all rivers and would surely be willing to take on board any genuine concerns of Bangladesh. But where emotion overrides rationality, dialogue becomes difficult and generates a political climate of hostility to which governments and public opinion become prisoner. Hysteria, as generated over the earlier Inter-Linking of Rivers proposal in India some years ago, that was confined only to the Peninsular rivers in the first stage under discussion, created bald blood for no reason whatsoever.

The Government of India can be faulted for often not informing its neighbours and its own people of given issues well ahead of time so as to preempt rumour and uninformed agitation. In this particular case, however, Bangladesh has been informed of what is intended. Earlier, meaningful communication with any precision was not possible as the project parameters had to be settled internally. That done, Bangladesh was informed, though a loud hue and cry had been raised in that country years earlier. The Tipaimukh dam still awaits financial closure only after which will construction commence. Meanwhile a Bangladesh (parliamentary) delegation has been invited for discussion and to visit the dam site. Hopefully this will allay misapprehensions and pave the way for reasoned deliberations on any residual problems.

There is every reason for the two countries to cooperate in developing the potential of their common rivers and in confronting the challenge of climate change which does not respect national boundaries. Bangladesh is particularly vulnerable and has more to lose from non-cooperation with India and in hardening negative mindsets. The Awami League government sees this and has adopted a positive approach. But, as in India, electoral defeat sometimes spawns spoilers who mistakenly believe that their redemption lies in posturing to defend an imagined national interest that only blocks progress.