Home
About the author
Gentleman crusader
List of articles
Books
Jamila Verghese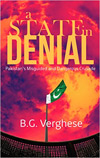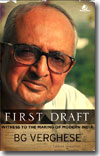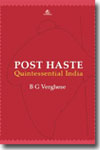 The objective of disabling the mini-summit talks in New York was, as usual, powerfully aided by jingoistic politicians, gleefully sermonising television anchors and vituperative panellists whose self-goal scoring rate has climbed steadily in response to their own cheers
Spoilers, Egotists

and Rogue Elements

The Samba Kashmir attack is a marked escalation for which Pakistan is answerable. Yet, the PM must not be derailed in his pursuit of peace.

By B G Verghese

Deccan Herald, 30 September, 2013

The dastardly Samba attack by Pakistani terrorists of the "Shohada Brigade", believed to be a pseudonym for or a wing of the LeT, took 10 lives but failed to derail the forthcoming Manmohan Singh-Nawaz Sharif talks on the margins of the UN General Assembly in New York. The incident needs to be probed for security lapses, and assumes special significance as it took place across the international border and was not just a routine violation of the LOC. This constitutes a marked and unprovoked escalation for which Pakistan is answerable over and beyond routine obfuscation, denials and quibbles.

The objective of disabling the mini-summit talks in New York was, as usual, powerfully aided by jingoistic politicians, gleefully sermonising television anchors and vituperative panellists whose self-goal scoring rate has climbed steadily in response to their own cheers. The proposed prime ministerial talks must be called off, they cried. The Government must here and now declare what it proposed to do to punish Pakistan, and Manmohan Singh must abandon his silly pursuit of a "legacy". The tirade, commencing with Sharm el-Sheikh, was both immature and unfair. Whatever else his alleged failings and faltering, the Prime Minister has been courageous and statesmanlike, like Vajpayee, in pursuing the path of peace with Pakistan in extraordinarily difficult circumstances. This is leadership, not retreat, and shows adherence to a larger vision.

Manmohan should talk because there is no better option. But what will he say? He can and should tell Nawaz Sharif bluntly that he must walk his talk. Every stab in the back, defended with crude denials in the face of compelling evidence, and subsequent confessions and pleas to "move on" and not reopen old wounds, will not wash. To plead that Pakistan is being far more severely bled by terrorism, cannot evoke sympathy and is a totally dishonest defence, as these same terrorists are home-grown hate mongers and despicable killers, trained, armed, sustained and led by (elements of) the Pakistan military-mullah establishment. India can therefore reserve the right to take such action it deems fit anywhere and at any time in defence of its citizens and national integrity.

Having said that to Nawaz Sharif, while reiterating his desire to stand by the small but discernible democratic and secular forces in Pakistan and walk the extra mile in any and every direction, Manmohan Singh should state as such in measured terms at a press conference in New York so that the world knows where India stands. He should repeat this to Obama. Back-stopping Islamabad at every step, having itself helped rear the Taliban and other jihadis in Pakistan and piously connived at cross-border terror is unacceptable.

As far as the "core" issue is concerned, Manmohan must tell Nawaz Sharif and the world that the only solution to the J&K question lies in moving forward on the path trodden by him and Musharraf through 2005-07 until the latter broke off on account of totally unrelated internal problems. That formula included sanctifying the existing boundary/LOC in J&K; making it an increasingly "soft" border by promoting cross border movements, trade, investment, cultural exchange, tourism and transit; setting up joint institutions to manage and monitor these arrangements; and leave it to each side to grant the fullest degree of autonomy to constituent units on its own side within this evolving condominium under twin sovereignties.

Additionally, Manmohan Singh has hinted at exploring possibilities of joint development and management of Indus Waters under Section VII ("Future Cooperation") of the Indus Waters Treaty that could lead to integrated basin development. He has also recalled the vision of J&K with its syncretic, humanistic culture and the hope that it can once again become a hub of commerce and cooperation with Inner Asia, Central Asia and near-West Asia. Far-fetched? Those who endorsed the SAARC Eminent Persons Group's vision of a South Asian Community with a common currency some 12 years ago, did not think so.

This is the broad, statesmanlike vision we should pursue and not the pettifogging, chauvinistic, ruinous path rabble-rousers would have us tread.

Even while the nation confronts problems of non-governance, mis-governance and competitive political folly, a wholly avoidable and thoroughly irresponsible aggravation has been rashly introduced by V.K. Singh, former army chief whose swollen ego and vaulting ambition has led him into a minefield of his own making.

The Indian Express reported on September 20 that an Army Board of Inquiry, headed by the DGMO, had probed various alleged misdemeanours by Singh when army chief and found him prima facie guilty of setting up a Technical Services (Intelligence) Division that purchased equipment for unauthorised eavesdropping and funding an NGO to pay a J&K Minister, Ghulam Hasan Mir, to bring down the Omar Abdullah government. As in the case of his age-fudging row, Singh engaged in newspaper and TV interviews in which he denied indulging in snooping or bribery, "clarified" earlier statements and defended himself by making the most damaging remarks about the Army intelligence routinely paying J&K ministers for "nation-building" and "stabilising the state" over many decades. This practice has been indignantly denied by senior Army commanders who have served in J&K.

Denials by the impugned J&K Minister and an understandably furious Omar Abdullah, had him retort that the Chief Minister had his own "agenda". He challenged the timing of the leaked report and asked why no action had been taken since March when it was handed over to the Defence Ministry. He described the published contents as false and motivated, described the leak as "treason", and attributed the timing to provide a smokescreen after the "bombshell" report that the government is planning to compromise with the US on civil-nuclear liability stipulations. The BJP take was that the timing followed Singh's appearance on an ex-servicemen's platform with Narendra Modi and aimed to discredit the former army chief.

Sections of the media and the political class tore into the Government. They worked themselves into a tizzy over the issue, partly defending Singh's position by harping on timing rather than content. At the end of the day, Singh had done enormous damage to the country by his reckless statements and bravado. The Singh affair has been mishandled by the Defence Minister from the day the man took the Government to court in full uniform on a paltry, self-serving issue of his own wrongly-recorded age at the time of recruitment. The Supreme Court, which he had approached and now scorns, dismissed his petition. It adversely commented on his thrice having given his solemn word when securing his three last promotions that he would accept the Army's determination of his contested age, only to renege on his word and fight the battle all over again at the next, higher level.

Singh has yet to be proven guilty of the charges levelled against him. A high level, speedy and independent judicial inquiry is imperative on his alleged misconduct. The national interest, the country's democratic ethos and the integrity, discipline and morale of the Armed Forces demand no less.

Finally, the selection of the three Service heads must be changed from a manipulative seniority principle to selection on merit by an independent board.