Home
About the author
Gentleman crusader
List of articles
Books
Jamila Verghese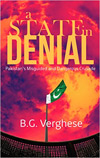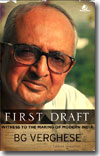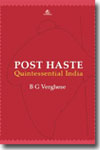 No one approves the denigration of revered religious symbols, irrespective of faith. Unfortunately, "secular" India has permitted faith, festivals, processions and rituals to be blatantly used for political mobilisation.


No Condoning

Soft Terror

Seeds of social hatred must be countered. Remember, Hindutva is not Hinduism. The latter is profoundly tolerant, catholic and accommodating.

By B G Verghese

New Indian Express, 7 October, 2008

The last few months have witnessed a marked spurt in the growth of soft terror, a manifestation of the hatred sown by Hindutva and related groups affiliated to the Sangh Parivar and driven by cynical calculations of electoral gain. The BJP's national executive meeting in Bangalore saw the party President, Rajnath Singh, describe the Hindu cause, Hindu symbols and Hindutva as the face of BJP nationalism, juxtaposed against the appeasement of alleged Muslim separatists and terrorists by the UPA.

Hindutva is not Hinduism, which is essentially tolerant and catholic and proclaims Vasudaiva Kutumbakam. Rather, it is a master-race creed propagated by bigots and bullies organized on fascist lines in secrecy and denial since its deceitful try-out of muscular politics by razing the Babri Masjid. On September 14, 2008, the Indian Express reported that VHP-BJP leader Ram Vilas Vedanti of Ayodhya had sent mobile messages alleging Al Qaeda-SIMI threats to his life. A memorandum signed by 100 local sadhus, led by Mahant Yugal Kishore Sharan Shastrri of the Saryu Kunj Temple, denounced this as "a conspiracy to create communal violence in Ayodhya and surrounding areas" and demanded Vedanti's arrest. According to the police, Vedanti's accomplices confessed to the plot. Earlier too, VHP-Bajrang Dal activists were killed in Kanpur, Nanded and elsewhere while making bombs.

No one approves the denigration of revered religious symbols, irrespective of faith. Equally, their exploitation to divide communities that have lived harmoniously is reprehensible. Unfortunately, "secular" India has permitted faith, festivals, processions and rituals to be blatantly used for political mobilisation. Thus processionals, their routing, duration and decibel levels keep getting longer and louder. Where was the warrant to seek permit a 120 km long funeral procession of Lakshmanananda Saraswati, the VHP Swami campaigning for reconversion, after his brutal assassination by Maoists on August 23. The BJP's effort to pass off the Boudh-Kandhamal pogrom as an ethnic clash between backward tribals and more advanced dalit Christians masks the continuing VHP-Bajrang Dal campaign of forcible reconversion, going back to the gruesome Staines murder. If forcible conversion by Christian missionaries is constantly alleged, it is extraordinary that in no State that has adopted anti-conversion laws, Orissa included, has a single case been registered, let alone proved. On the other hand, tens of thousands of Christian refugees in the jungle have been warned not to return to their devastated homes and livelihoods unless they are prepared to undergo "reconversion". VHP's Togadia could do the round of Kandhamals earlier, while others were barred, and saffron flags flutter from many housetops as a hoped-for shield against further attack, as TV images depict. The BJD-BJP Government has been supine. A hospital report confirming a nun's rape was not acted upon for 38 days. A FIR sent by registered post to a thana was returned unopened to the sender. Central forces and a helicopter dispatched to Orissa have not been effectively deployed.

The pogrom against Christians in BJP-ruled Karnataka subsided only after many weeks and much loss of life and property. The same Hindutva groups were responsible, the Bajrang leader, Mahendra Kumar, boasting responsibility. Forcible conversions" remain unproven. If some very offensive anti-Hindu literature was circulated, this must be unequivocally condemned. But who produced and circulated this literature and why has no action been taken? Instead, a whole community was targeted. Central directives to the Karnataka and Orissa governments were met with indignation.

Anti-Christian terror mapping places the bulk of the incidents in BJP ruled states, including MP, Rajasthan and Gujarat and wherever Hindutva groups are struggling to win turf, as in Kerala. Advani claims a soft corner for Christians and has called for a "national debate" on conversions. Let him choose a credible public platform in Delhi to speak and answer why there are no formal complaints and prosecutions while open evidence of forcible reconversion by Parivar cohorts is piously passed off as "ghar vapasi" or homecoming that assumes a false title to prior spiritual appropriation. Conversion by force or allurement is wrong and any church or other group guilty of this – or of denigrating other faiths – deserves condign punishment. But to assume that all conversions must necessarily be "forced" is to end freedom of conscience and of expression and can only lead to a fascist state and a one-nation, one-culture, one-people theory posited on the ideal of a master race, which is what Savarkar, the originator of the two-nation theory, and Golwalkar preached.

The BJP/Parivar's theory of terror has long equated terrorism with Islam, a false and vicious stereotype that is not dispelled by BJP assertions that while not all Muslims are terrorists, all terrorists (operating in India) are Muslim. This is slanderous nonsense. Terrorists have no religion. They are deranged criminals. There has been a certain radicalization of Muslim youth in India. Causative factors such as the complete travesty of criminal justice in Gujarat may explain but cannot extenuate this tendency. So it would be mistaken were hurt Muslim sentiment to exhibit helplessness and victimhood, a reflex reinforced by indignant secularists, genuine or political, some of whom are in danger of leaning the other way. The law must be assisted to take its course in all cases, not selectively, and the outcome should not be prejudged.

The police in Delhi and elsewhere have taken a beating in recent days over certain incidents and investigations. The rival Shiv Senas can thrash or trash anyone or anything and boast competitively about who can more surely set Mumbai afire and get away Scot free. The charge is that the Police are often communal, look away, fail to act independently, stage false encounters and echo their masters' voice. This is a sweeping generalization but, where true, is a result of the politicization of the police and investigative agencies which all political parties condone, whatever the recommendations of umpteen Police Commissions and the directions of the Supreme Court. They are all guilty of abetting crime and lawlessness as beneficiaries of the criminalization of politics and the politicisation of crime. This is where terror begins and redressal fails.

Undue hesitation about issuing directives under Article 355 or imposing President's rule are totally misplaced. The Constitution and the rule of law cannot be systematically emasculated for fear of annoying those who would do their worst without let or hindrance. There is a strong case for banning organizations like the VHP and Bajrang Dal, just as much as their Islamic counterparts who would subvert the State.

The media too has a heavy responsibility to avoid sensationalism, portraying rumour and speculation as "breaking news" and bludgeoning those in authority to conduct delicate and complex investigations and negotiations in the market place. There are constitutional limits to media freedom, which in some cases has degenerated into license. The media has a hugely important agenda-setting role. Wrong agenda, wrong debate. QED.

The National Integration Council meeting called is overdue. The nation is in peril.