Home
About the author
Gentleman crusader
List of articles
Books
Jamila Verghese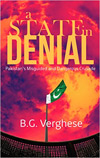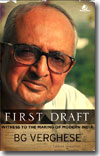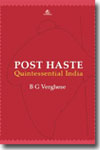 A lot of nonsense continues. Witness the mindless clinging to the notion that a gang rape victim must not be named even after death. Shashi Tharoor was right to remark that naming that "23-year old", "that woman", "the victim" or "Nirbhaya" means robbing her of an identity even while being eulogised as a national heroine
Make

a Fresh Start

In India, under-trials may be incarcerated for longer than the maximum penalty. On the other hand, guilty paries, especially if wealthy, literally get off with murder.

By B G Verghese

6 January, 2013

The year just ended was not India's proudest. Everything that could go wrong went wrong. The nation was adrift, buffeted by systemic failure, confrontationist and confused politics and mounting public anger. But as a new year dawns there are signs of renewal and a determination to make a fresh start as a result of rising public anger and recognition of the need for governance reform.

A lot of nonsense continues. Witness the mindless clinging to the notion that a gang rape victim must not be named even after death. Shashi Tharoor was right to remark that naming that "23-year old", "that woman", "the victim" or "Nirbhaya" means robbing her of an identity even while being eulogised as a national heroine and symbol of courage, women's dignity and honour. Her enforced anonymity is shameful and pictures and names of other rape victims have been pinned on "her". What could be more insulting, degrading and uncaring? The law may be an ass, and often is; but it is society that has turned its back on "the victim". Her family has been harassed by intruding media that is all too often contemptuous of privacy. Bystanders gape at accidents and altercations and enjoy their own running commentaries of what happened but will seldom lift a finger to help – partly for fear of getting entangled in legal red tape.

A flood of suggestions is being directed at the Justice J.S. Verma Committee that has been tasked to recommend changes in the law. Hopefully, what will emerge is a better legal framework and a reformed policing and medico-legal system to cope with current realities. Yet, punishment must fit the crime. In India, under-trials may be incarcerated for longer than the maximum penalty due if found guilty. On the other hand, those guilty, especially if wealthy or influential, literally get off with murder. All holders of or contenders to public office, including electoral office in particular, if charged with rape, murder or other heinous offence, must be made to resign or be disqualified until their names are cleared by fast courts. Those making malicious allegations must face prompt and exemplary punishment and busybodies and political godfathers treated with a heavy hand.

Gender inequality can no longer be regarded as a norm, sanctified by faith or tradition or patriarchal power. It is good that the entire gamut of crimes against women is being reviewed in terms of definitions, processes and consequences. The condition of sections of the community like the widows of Varanasi is unacceptable. Families guilty of getting rid of widows in this most cruel fashion must face criminal prosecution with harsh punishments, individual and collective. Triple talaaq is another horror that simply must not be tolerated and be made a criminal offence.

The Constitution does indeed protect "freedom of conscience and free profession, practice and propagation of religion". But this is subject to public order, morality and health" and other fundamental rights. The least that can be done is to enact a common civil code – of which the so-called Hindu code is no example, as several forms of Hindu personal law continue to coexist up and down the country. This most essential legislation for gender equity, Fraternity and equal citizenship has not been enacted on account of thoroughly dishonest legal pleadings designed to retain male control over property. An optional UCC would by its very attraction compel orthodox clergy and fundamentalists to undertake religious reform in order to retain their following. Alas, a hollow, vote bank-led Indian secularism has precluded action. Women's groups are supine and "activists" of all hues have little time or stomach for a truly basic social reordering.

So much for the hype and chatter of all too many angry young men and women and a media that is so often far removed from ground realities. The Tagodia's, Shiv Sainiks, Hindutvadis, Islamic fundamentalists and other exclusivist Lesser Indians flourish. The inflammatory and illiterate hate speech of Akbaruddin Owaisi is a typical example of the extended licence given to rabble-rousers to denounce the very idea of India. The law is simply not taking or is not being allowed to take its course. When as communal and divisive a character as Bal Thackeray, indicted by the Sri Krishna Commission on the 1993 Mumbai killings, is given a State funeral, out of fear, then it is time to worry. Justice Liberhan took 17 years to submit his report on the destruction of the Babri Masjid following which nothing has happened. Now Justice Nanavaty has been accorded a 19th extension until June 2013 to complete his inordinately delayed report on the 2002 Gujarat pogrom masterminded by Narendra Modi.

Mohan Bhagwat, the RSS leader has been taken to task for saying that rape is largely an urban Indian phenomenon where rural Bharati culture does not prevail. He is largely right as old values are fast disappearing in "modernising" India. Contemporary parenting and schooling have little time for impatient, aspirational, upwardly mobile youth, getting serially empowered in large cohorts. They imbue no better values than money and influence, howsoever earned, that spell "success".

Two things, among others, illustrate this tendency. The brutal ragging of freshers in certain institutions by seniors students still prevails. The purpose, most often, is to do unto others what they themselves earlier suffered socially through a display raw power that demanded instant obedience. The other is the sad story of Indian cricket, which has undergone a transition from sport to commerce, with fame and money in attendance. Playing for India matters less to some than personal achievements that pave the way for immortality, auctions and endorsements. Politicians have also found a constituency in sport.

Withal that, the so-called BIMARU states are doing better; an improved Aakash tablet has been marketed; the Adhaar-led cash transfer programme has been launched, albeit on a smaller scale; the Qazigund-Bannihal tunnel has been completed on the Jammu-Baramulla railway; a new National Water Policy has been adopted that will help better water governance and regulation; a Cabinet Committee on Infrastructure has been set up to expedite land, environmental and other clearances for large projects which will give investment a fillip.

Much of course remains; but there is some realisation that the better need not axiomatically be the enemy of the good. Yogendra Yadav has written of the New Politics emerging from the current, new-generation civil society awakening. Equally, N.B. Saxena, a respected member of the National Advisory Council, has wisely counselled against populist NGO amateurs tilting at windmills and looking for quick-fix solutions without comprehensive analyses. Amen.