Home
About the author
Gentleman crusader
List of articles
Books
Jamila Verghese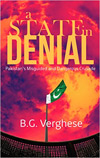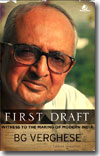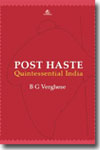 Where managements have moved tactfully and in consultation with locals without the "Mamataisation" of the process, there has been little or no problem
Much Reprocessing,

No Enrichment

Singur is symptomatic of a malaise that requires urgent attention. It is time to tackle poverty and its root causes. Luddites move over.

By B G Verghese

New Indian Express, September 9, 2008

Despite furious verbal reprocessing, little enrichment of substance ensued at the end of the day. The heroic regurgitation of the so-called secret Bremen letter on the 123 Agreement by the BJP, the Left and sundry no-sayers notwithstanding, the NSG approved the sought Indian waiver in Vienna. What a stoic effort for a hollow cause!

For similar reasons it is difficult to award even a single "hurrah" to Mamata Bannerjee over Singur, despite the effort to evolve a compromise through the good offices of the Governor, something always available through negotiation.. The lady tilted with Bengal and India's future, recklessly insistent on putting the clock back, jeapordising the livelihoods and well-being of millions of those for whom she claimed to speak. Her Luddite "movement" was hijacked by extraneous and extreme elements while the tide of opinion clearly turned against her. The United Front government was the unfortunate victim of this mindless assault on development, growth, employment and poverty alleviation. But it is difficult to shed too many tears for the Left, which in all other respects has led backwoodsmen of every stripe across the country to impede reform and progress in the name of barren, outworn ideology.

The poor are constantly being pauperized in the name of the Poor in defence of the barricades tirelessly erected against capitalist-imperialist intrigue and onslaughts from all sides. The Marxist amendment to Marie Antionette appears to be "If you can't give them bread (or dignity), then give them revolution". So there is a daily revolution. West Bengal reportedly experiences five state-wide and 15 local bandhs annually, with estimated losses amounting to Rs 10,000 crore per bandh. Tens of thousands of daily wage earners must go hungry if they cannot earn their daily bread. Investors shy away. That is why Buddahdeb Bhattcharjea, trying desperately to woo investment and win jobs for West Bengal, rued that as a party loyalist he had kept silent so long but would "open his mouth" at the next bandh call. He was sternly chastised for blasphemy and made to eat humble pie! The situation in Kerala is perhaps worse. "Even God cannot save this state" said the High Court, and banned bandhs, but to no avail. "Bandhs" became "hartals". Between January and August, 2008, Kerala experienced six statewide and 75 local and region-wise hartals. Each hartal costs Rs 450 crores. The simple expedient is to halt all vehicular traffic through a "chakka jam" and get shops and offices to down their shutters or close their doors. And for light entertainment, buses are burnt, trains tracks uprooted and establishments looted. The organizers assume no responsibility and, as in Jammu, where there was absolutely no "blockade" of the national highway to Srinagar but only a "chakka jam", the BJP-RSS sponsors of the Sangharsh Samiti have the gall to seek compensation for the losses incurred by traders and transporters!

In Singur, the Left Front did not enjoy the taste of its own quackery. "Mamata" wants agriculture to flourish. Jai Kisan. So do we all? But the problem increasingly is ever smaller and more fragmented holdings which are simply not viable. So hapless marginal farmers are either leasing out their holdings and becoming landless labourers (going down the social ladder) or selling out, collecting the going price or the far more generous compensation of Rs 5-9 lakhs per acre that Tata and other entrepreneurs are offering, and either migrating to cities in search of jobs or investing in the education of their children, today's prized investment, and/or taking training and employment in the enterprise for which they have vacated their lands. If compensation is the problem, this can be negotiated alongside more generous, long term formulae for stakeholder participation, including a share in the stream of future benefits. Such agreements are being entered into. They may require some enlightened NGO hand-holding and monitoring but not raucous, violent, obstructionist interventions that degenerate into violence and lawlessness and run away with the agenda for extraneous, self-serving ends.

The problem is not confined to Singur or sundry SEZs. Where managements have moved tactfully and in consultation with locals without the "Mamataisation" of the process, there has been little or no problem. In West Bengal itself, Jindals have acquired land for a steel plant with nobody crying murder. The Tamil Nadu Industrial Development Corporation has worked with the GVK Group, promoters of the 3000 acre Perambadur SEZ, to acquire land from some 2000 smallholders, without litigation, at Rs 3 lakh per acre, six times the market price, plus preference in recruitment and training for jobs.

In Orissa, Supreme Court verdicts permitting Vedanta-Sterlite India and POSCO to go ahead with their bauxite mining and steel projects have evoked fury, again mostly by NGO activists on behalf of local tribals. The very sites are being threatened with gherao and continuing struggle. To what end? Environmental impacts? Compensation? Conflicting interpretations? Surely these can be negotiated and entrepreneurs held accountable for delivery. The Court has ruleds that five percent of mining profits or Rs 10 crores, whichever is higher, will be earmarked for tribal development. Now it is argued that the local ecology and tribal way of life should be left alone while in Uttarakhand the forests and waters are sacred and cannot be touched. One can build appropriate safeguards but Tribal India, certainly much exploited and neglected in the past, cannot be left "pristine" for all time. Given relevant choices, Tribal India wants change, minus fraud and exploitation. Kalinganagar (the Tata steel plant site in Orissa), like Nandigram earlier, has been under siege for months, cut off by agitators who have run a state within a state.

All this in the name of the poor and to prevent displacement, especially in the case of dams. Those displaced must surely be compassionately rehabilitation and restored improved livelihoods. This is being done and constantly refined and improved. More can be negotiated. It is said 30 to 40 million people have been displaced by development since 1951. Maybe. But who has shed a tear for the 30 million or more distress migrants who move seasonally across the length and breadth of the country annually as sweated labour to keep body and soul together. These involuntary displaced "Nowhere People" are victims of non-development which, with exploitation and assaults on dignity, have spawned Naxalism and environmental destruction. What answer does Mamataism, Patkarism, the Left Front's "Communism" and other self-destructive movements have to any of this? How many millions have been displaced by the Kosi and Assam floods this year? There are good dams and bad(ly designed/sited/maintained) dams. Why compulsively oppose all dams? What is the alternative? Embankments? These have failed, raised river-bed levels, and been a font of corruption. Live with floods? Yes. But to what extent and for how long and at what cost? Are sensible structural mitigative measures to be ideologically scorned?

Surely the nation must find better answers to help the poor and end poverty.
With 12 million net jobs to be added each year, we cannot stand still or delay. Singur is symptomatic of a malaise that needs urgent attention.