Home
About the author
Gentleman crusader
List of articles
Books
Jamila Verghese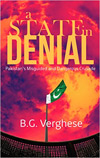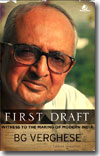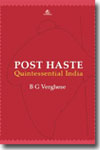 The civil and, especially, uniformed services are non-political servants of the people acting under the directions of the government of the day, owning allegiance to the Constitution and not to any extraneous ideology or group.


Beware Perverse

Patriotism

Perverse patriotism fed on false notions of "nationalism" must be squarely fought. Terrorism is terrorism, irrespective of community.

By B G Verghese

Deccan Herald, 10 November, 2008

One must beware of perverse patriotism, disturbing signs of which have been recently manifest. The arrest of an Army officer on suspicion of having assisted alleged Hindu right extremist terror bombings in Malegaon and possibly elsewhere appears sinister. At the moment here are only allegations that must be thoroughly investigated before definitive conclusions are reached. Nevertheless, enough has been established to cause deep concern that the armed forces may have been penetrated by dangerous, ideologically driven groups.

The civil and, especially, uniformed services are non-political servants of the people acting under the directions of the government of the day, owning allegiance to the Constitution and not to any extraneous ideology or group. The Defence Minister has taken note of whatever has happened and intends to get to the root of the matter so that incipient mischief is nipped in the bud. Meanwhile, the single incident come to light should not be considered a trend but an aberration.

What is surprising, however, is the response of spokesmen of the Parivar. They disown any association with Sadhvi Prayaga and other civil suspects held for the Malegaon bombing. Yet they take the line that Hindus cannot be terrorists and that the armed forces are a part of Indian society which has been horrified by the pusillanimous and apologetic approach of the UPA government to terror attacks and cannot therefore be blamed for patriotic reactions. This apologia comes close to showing sympathy for and indirectly condoning what is undoubtedly grave dereliction of duty and rank indiscipline. It echoes the chorus from across the border in praise of "freedom fighters" as opposed to terrorists, "our" boys versus the dreadful "other". Such pernicious double talk is scarcely in keeping with the Parivar's insistent demand for "strong" action against terror.

The same attitude of "patriotic anger" was revealed in the disgraceful conduct of young ABVP hoodlums who broke up a Delhi University meeting on Democracy and Fascism last week and spat on one of the invited speakers, S.A.R Geelani, who was discharged by the Supreme Court in the Parliament bombing case. What was witnessed was fascism in action, made worse by two comments by the saffron fraternity. ABVP's President, Nupur Sharma said that the offenders were not AVBP members but "outsiders" but went on to state in a TV discussion that she would have done much the same thing in patriotic anger against Government's poor record in fighting terror. The BJP spokesman, Ravi Pratap Rudy's comment was that the protest against Geelani could have been "more hygienic" but was nevertheless an expression of "patriotic emotion" on the part of students with regard to what was perceived as Geelani's mistrial. VHP's Pravin Togadia repeated the same mantra as senior RSS spokesmen and other Saffronites that a Hindu by definition cannot be a terrorist. He warned that persisting with such "false charges" against a Sadhvi and army personnel would evoke a "political backlash".

In another episode last August, BJP-backed protestors in Jammu rioted and vandalized property during the Amarnath Yatra Board land agitation. Here again the commentary extolled demonstrations by "patriotic Indians" holding aloft the tricolour, as against Valley separatists brazenly marching to Muzaffarabad. The national flag must be honoured but cannot be used as a shield against riot police.

Perverse patriotism feeding on false notions of jingoistic nationalism must be squarely fought as it manifests a malignant fascism. Terrorism is terrorism, irrespective of community, and can find no place in a democratic society that offers many avenues for grievance redresssal. Even if poor or partisan governance, political bias in policing and a creaking criminal justice system have closed many doors, wrong means cannot be justified in the name of seeking right ends. The Delhi High Court has sternly admonished police officials to stop rushing to hold press conferences to leak premature and fallible "leads" that disclose their line of investigation and instead to get on with their job of bringing criminals to justice. Warped notions of "public interest" and "press freedom" have made nonsense of good reporting and a growingly irresponsible section of the media is becoming a social menace rather than performing its proper role of "mediation".

Two other straws merit comment. Though Chaat Puja passed off peacefully, one must be wary of the tendency to use festivals for political and electoral mobilization and to overawe "the other" whosoever that other might be. The second relates to a Parliamentary Committee recommendation that would make a non-official chairman of the Central Wakf Board rather than a Joint Secretary as at present. But why on earth should Government enter this constitutionally forbidden territory and, likewise, fund Haj, Kailash-Mansarovar and other pilgrimages at the taxpayers expense? This is to dilute secularism, court trouble and invite competitive religiosity to garner votes.

Jamiat-Ulema-e-Hind clerics have just met in Hyderabad to reinforce their previous Deoband fatwa denouncing terror masquerading as jihad. This is a positive move and should the starting point for further efforts in the direction of national integration. Bhutan and the Maldives are happily marching towards democracy and Barack Obama has set an inspiring example by going beyond narrow identity politics to set himself larger and higher goals for the United States and the world. These are beacon lights to follow.