Home
About the author
Gentleman crusader
List of articles
Books
Jamila Verghese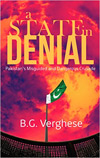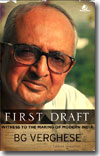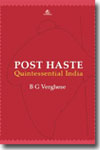 The economy is slowly picking up and, while growth must be revived, this may be a good time to review the balance between need and greed, social versus ostentatious private consumption, and corresponding lifestyles.


Get Down To It

Now

With a fresh mandate it is time for the government to get down to governing, disciplining unruly MPs, dealing with neglected sectors and reviewing the balance between need and greed.

By B G Verghese

Deccan Herald, 1 June, 2009

With the elections dissected and the Council of Ministers in place, Parliament and the Government must now buckle down to work. The Government has a mandate and a mission as set out in its manifesto and must lose no time in getting moving. Parliament can do no better than to pledge to function as it should as a deliberative and legislative body and to resolve that the rowdy, intemperate, disruptive tactics witnessed in the last Lok Sabha will not be repeated. There is no point in straining every nerve to get elected to the Lok Sabha and then do everything possible to prevent it from functioning. Party leaders must take responsibility to guide and discipline their members and not leave it to a harassed Speaker to discipline them. Defiant and disruptive MPs must be expelled from the House and the principle of no-work-no-allowance should be applied rigorously.

Question hour can be much more purposeful if thoughtful, non-repetitive queries fetch pointed answers that ensure both information and accountability. In earlier Lok Sabha's, twenty or more Questions would be answered. No more, as verbosity and obfuscation have tended to become the norm. A more purposeful Question Hour will make Parliament more participative. The Standing Committees too should be encouraged not merely to take up Government business but also issues of public concern and examine expert witnesses whose knowledge and insights could influence and assist policy making and legislation. This is where diligent members could make a mark without craving for ministerial rank. And the Lok Sabha and Rajya Sabha TV could play a lively role in widening the ambit of debate.

Within Government, Ministers must devote more time to policy and evaluation and not get locked into the minutiae of administrative detail which should be left to desk officers with the Secretary playing a role complementary to the Minister and not merely pushing routine files. India's administrative procedures are notoriously complex and slow and since delay amounts to denial, petty corruption greases movement. Consultation and inter-ministerial references are necessary, but timelines can be fixed and inter-ministerial meetings and conference calls set up to expedite the process. Higher up, transparency can deter malpractice with rules, procurement policies, contract bids and tenders being posted on web sites that provide access and obviate routine queries. The Administrative Reforms Committee, the Law Commission and expert commissions have recommended useful reforms which should not be allowed to gather dust. Indeed, each Department would do well to assign a special officer to chase up implementation and advise the Minister on where de-bottlenecking is required.

Matters like police reform have been placed on the back burner despite Supreme Court directives and their fundamental importance to basic security, intelligence gathering, combating corruption and the working of the criminal justice system. Within a week of the recent election results, Mayawati transferred 34 senior police officers in one go because she had fared poorly in the polls. The inference is obvious. Policing is seen as a handmaid of partisan politics. Can the country afford to countenance this kind of conduct which is widely pervasive?

The elections have witnessed enormous expenditure and money openly changing hands. Are election expenditure returns and the assets and asset appreciation of MPs and MLAs being closely scrutinised? Again, should candidates facing criminal charges of a certain kind be permitted to contest elections, sometimes on bail. A Committee of Parliament could be asked to examine such questions, including the auditing of Party accounts, to see where we can go from here. Of course there will be objections by those with something to hide. But can the country continue to tolerate electoral sleaze with its sinister backward and forward linkages?

The economy is slowly picking up and, while growth must be revived, this may be a good time to review the balance between need and greed, social versus ostentatious private consumption, and corresponding lifestyles. This could call for adjustments in the content and trajectory of inclusive growth. Education, health, housing and infrastructure represent critical areas of neglect. J&K is poised for a settlement based on greater State and regional autonomy. The Northeastern insurgencies are variously ripening for resolution, especially the Naga question. Naxalism too needs to be handled not just with a big stick but with deft openings to dialogue and development that build partnerships with tribal, dalit and other dispossessed.

Neighbourhood policies must be refashioned within a framework of regional cooperation into which Pakistan and Afghanistan and AfPak issues must be fitted. There are disquieting reports of Pakistan enhancing its nuclear arsenal which could be a dangerous plaything in wrong or desperate hands. How long can we insist that the peace process in Pakistan cannot be resumed until we get satisfaction on 26/11 and credible evidence of the dismantling of the cross-border terror infrastructure? These are perfectly valid concerns but could become a circular argument. It is increasingly clear that the civil authorities are not fully in charge and need to be strengthened to contest both military and jihadi hegemony. We have to help the people of Pakistan to help us for mutual benefit.