Home
About the author
Gentleman crusader
List of articles
Books
Jamila Verghese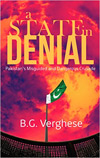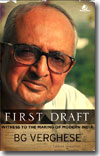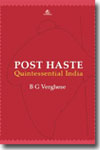 She has blamed dark conspirators and sections of the media for targeting her Government for sundry acts of gross lawlessness, patient deaths, the AMRI hospital fire, etcetera.
The Caravan

Must Move on

As surprising as Mamata's rash and boorish conduct has been, so is the response of various apologists and UPA critics for whom her antics are grist to their mills.

By B G Verghese

New Indian Express, 18 March, 2012

The highlight of the past week was not the President's Address or the Budget but the extraordinary tantrums of Mamata Bannerjee, whose shallow politics and authoritarian face is becoming increasingly manifest. After consistently nay-saying everything for the past few months, wilfully putting a spanner in the works of the Government, of which the Trinamool is a partner, she peremptorily called on Dinesh Trivedi to roll back the passenger fare increases announced in his Railway Budget. The grounds were that she was not consulted and that increasing fares to bail out the Railways, increasingly sinking into the red, was anti-poor and hence intolerable.

The definition of being pro-poor, according to her and her ilk, is to mismanage the Railways on populist considerations and bring this key infrastructural enterprise to its knees by refusing to renew and reform, ignoring safety and efficiency in order to earn cheap kudos as she did and her predecessor before that.
The entire argument put forward by her is an essay in nonsense. "You owe your election to me, and I appointed you Railways Minister"! "The Railway Ministry is a Trinamool Ministry and you will consult and report to me and not to the Prime Minister" – never mind your oath of official secrecy and the principle of collective cabinet responsibility. "Either roll back the passenger fare increase" – so necessary after nine years of static fares, enhanced passenger facilities and rising costs – "or tender your resignation immediately and hand over charge to Mukul Roy, whom I have designated your successor". "Mr Prime Minister, please take note". And if past comments are factored in, what Mamata is repeating is that the Trinamool is in need of no allies in Bengal but the UPA in Delhi is dependent on her 19 MPs.

In the recent past, Mamata has whined about the neglect of Bengal by the Centre, after the ruination of the State brought about by 34 years of Left misrule, and demanded a suitable "package". She has blamed dark conspirators and sections of the media for targeting her Government for sundry acts of gross lawlessness, patient deaths, the AMRI hospital fire, etcetera. She has thwarted Central programmes, feigning outrage at alleged Central violations of "federalist" principles; and gratuitously damaged Indo-Bangla relations. Her nine-month record has seen her image unravelling and her party resentful, even rebellious, over her dictatorial and mercurial ways.

As surprising as Mamata's rash and boorish conduct has been, so is the response of various apologists and UPA critics for whom her antics are grist to their mills. This without a moment's thought for the implications of such tantrums. It is astonishing that official/Congress spokespersons should admit Mamata's right to "nominate" the Railway Minister who might be anyone of her choice, a "right" earlier accorded to the DMK and other partners with ruinous results. Coalition partners do have a right to Cabinet representation in proportion to their strength and to consultation. But it is not for them to choose and, insist on particular portfolios and determine who shall be appointed. This must remain the prime minister's prerogative in the interests of coherence and efficiency and cannot be part of a spoils or patronage system that is getting codified into a fatuous principle that passes for "coalition dharma". The Cabinet must function as a cohesive whole and Ministers must be collectively responsible – or quit.

Dinesh Trivedi acted properly. As Railway Minister he drafted the Railway Budget, putting national interest before family and party interest, persuaded by the sheer logic of Railway finances and the needs of renewal and expansion as spelt out by two expert committees. After stagnating for nine years and faced with an accumulation of half-baked and, often uneconomic constituency-oriented projects, he raised fares and cut down on wasteful expenditure only to be imperiously disowned by his party chief who has forgotten how to spell "India" and for whom the health of the Indian Railways is of no consequence. Her motto: Deny the Centre the wherewithal to govern and the nation to grow; but demand two pounds of flesh to sustain your fiefdom and your follies.

Dinesh Trivedi has not heard directly from Mamata Bannerjee. He has only been spoken to by her henchmen or heard about her allegedly faxed letter to the Prime Minister through the media. He has sought a signed communication from Mamata seeking his resignation, only to be told that he did not seek anything in writing when earlier asked to be sworn in as a UPA minister. As of this writing he is reported to be busy in the Railway Ministry preparing to defend his budget in Parliament. The outcome will be keenly awaited, as many delicate issues of democratic procedure, good governance, coalition politics and national stability hang in the balance.

Should Trivedi be sought to be compulsorily retired by his party as Railway Minister, it is not clear if he can be adjudged to have defected and thereby suffer disqualification from membership of the Lok Sabha. His expulsion from the party could make him a rallying point for other Trinamool members who seem to be increasingly discontented at the arbitrary conduct of their Leader. The Railway unions have, interestingly, rallied behind the Minister.

The Government has wisely stood its ground and refused to be rattled, with the PM commending the Minister for a good budget. The Government is now reasonably assured that if Mamata threatens to bring down the Government, Mulayam Singh Yadav may step into the breach with his 21 SP MP's. The DMK is also huffing and puffing and demanding that India support a UN resolution condemning Sri Lanka for alleged human rights violations against LTTE cadres. India is right not to be pushed into toeing any particular line and may prefer to deal with the matter quietly yet firmly as a friend of Sri Lanka.

Many have forecast a stormy session of Parliament. The Budget was perhaps unduly cautious in erring in favour of consolidation and pointing in certain directions rather than acting more boldly, or adventurously some might think in a parlous situation. Nevertheless, the Government must consult and push pending Bills and reforms so that it regains the initiative and is not seen as merely reactive if not inactive.

Firmness is also indicated, maybe by restarting with the process of commissioning the first two Koodankulam nuclear units (2000 MW) which has been stalled for several months at a time when the people of Tamil Nadu are crying out for power. All fears have been reasonably addressed. A TN governmet expert panel has cleared the project and pronounced it safe. But there is no answer to motivated and ideological objections put forward for collateral reasons. Firm steps to re-rail the project would help send out the right signal. Consultations will take place. Objections will be heard and met constructively. And timelines and implementation of R&R will be strictly monitored. But, given all of this and all necessary safeguards and safety nets, the caravan will move on.