Home
About the author
Gentleman crusader
List of articles
Books
Jamila Verghese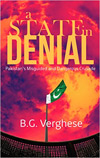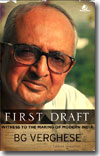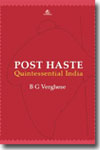 Altogether, this would significantly reduce waste, enhance farm incomes, ensure lower prices and better quality to the consumer and provide measureable stimulus to the economy, rural investment and employment. Can India afford to miss out on rural reform and agrarian revival?
Luddites

and Naysayers

The decision on multi-brand retail has been put on hold while the Government seeks consensus. This is India's defeat.

By B G Verghese

New Indian Express, 11 December, 2011

The Luddites are back again. The decision on multi-brand retail has been put on hold until the Government can secure a broader consensus. With Trinamool and other coalition partners withholding support, Pranab Mukherjee confessed the Government did not think it could muster a majority in the Lok Sabha and risk a mid-term poll. No one wants or is ready for a poll. Yet the Government must govern and cannot be continuously blackmailed by its allies and opponents alike. The ruling party has been defeated, the BJP gloated. No. It is India's defeat. The prospect of a snap election must now be considered a serious option and let the chips fall where they will. Drift can only lead to disaster.

Some are adept at finding two problems for every solution. But if it becomes a reflex there is a problem, such as we have here, with politics driving argument and agenda. FDI for single brand retail has been around for some time and the next logical step favoured by policy makers after much debate was extension of this to 51 % multi-brand retail limited to 53 million-plus cities and 30% purchase from small and medium enterprises, with licensing approval vested in state governments. Thus any states ruled by parities opposed to FDI multi-brand retail, such as the BJP, Trinamool and DMK would be free to bar it in the interests of their farmers, small traders and consumers. What we now have, however, is a veto over all by some. This is clearly unreasonable.

Critics argued that if the "Wal-Marts" once got their foot in the door they would soon prise the door wide open, capture the market with their deep pockets and savvy, enslave farmers, exploit the consumer, wipe out the family-owned kirana stores and then, like the East India Company, take over. Never mind the good it would do in terms of backward and forward linkages, helping famers to raise productivity, provide much-needed post-harvest technology and rural infrastructure such as cold chains, storages and by-product utilisation. Altogether, this would significantly reduce waste, enhance farm incomes, ensure lower prices and better quality to the consumer and provide measureable stimulus to the economy, rural investment and employment. Can India afford to miss out on rural reform and agrarian revival?

Farmer suicides and distress migration point to an agrarian crisis that must not be endured but ended. Few critics are concerned about the fact that people are fleeing the land, which can no longer support them, and need off-farm jobs which can come from small enterprises and processing and service centres in myriads of rural hubs. This too will not happen without all-round infrastructure development and large and mega enterprises that feed and sustain the growth story through a powerful multiplier effect. A growing labour force demands the creation of 10-12 million new jobs per annum, direct and indirect. Preserving old jobs is no way to create new ones. We have seen the high cost of sick industries that Luddites so cherish, even as they oppose innovation.

The naysayers have not only postposed FDI multi-brand retain but are also determined to delay or deny reform in other key areas like pensions, insurance, banking and the Aadhar or Unique Identification Number programme. Amendments and improvements can always be suggested. Aadhar promises to be transformative in terms of better governance and delivering their dues to target groups. It has already started rolling out and to apply the brakes now, even while closer meshing with the National Population Register (NPR) is pursued, would be a gross national disservice. Its possible misuse to invade privacy can be suitably safeguarded and cannot be sufficient reason to scuttle the programme.

Meanwhile, Kapil Sibal's alert about working out an agreed and open method with internet service providers and social media producers to curb pornographic, blasphemous and incendiary postings that incite violence and hate is not to dismissed as "censorship" or born out of fear of criticism of official failures and misdeeds. That is too facile a view. None will dispute that freedom of expression is a most precious fundamental right; but one man's right ends where another's is imperilled. Freedom is not licence to abuse. Some champions of free speech who have had access to the offending items that Sibal placed before them, admit to having been shocked. Internet and social media are new and fast-growing means of communications and networking where rules of the game are yet to come into being.

Sibal is only urging that society should start dialoguing on this matter and begin to fashion a sensible and practical via media to monitor excesses. Tens of million messages are generated daily and pre-censorship is not possible and would be abhorrent. Certain guidelines exist. They should be reviewed and service-providers like Google, Facebook and You-Tube might hereafter respond to specific complaints and take down what they agree is prima facie objectionable. Suing strangers for defamation in foreign or unknown jurisdictions may not be possible unless a special world internet standards forum comes into being, possibly through a federation of national forums. Hillary Clinton meanwhile had some advice for India on this topic. What would she say about Harvard University removing Subramanian Swamy from its summer faculty for propagating hate speech against Muslims in a newspaper article he published in a Mumbai newspaper last July? And how would she explain US-enforced embedded journalism with censorship in coverage of an admittedly deceitful and dishonest war in Iraq?

The country has just witnessed the first encounter in Anna Hazare's Third Jan Lok Pal War at Jantar Mantar before he manoeuvres to fight a decisive action at the Ramlila Grounds on December 27. Political parties that blocked Parliament joined the debate. As before, he will fast indefinitely unto death yet neither indefinitely nor unto death in keeping with the Byzantine intricacies of Anna-speak as interpreted from time to time by his devoted Team. The Parliamentary Standing Committee has submitted its report on the Lok Pal Bill after fully taking on board the assurance of considering Anna's three demands for inclusion of state lok ayuktas, the lower bureaucracy and public grievances contained in the "Sense of the House" motion unanimously adopted by Parliament on August 27. However, Anna had already denounced its expected findings. Bluster and emotional blackmail through threats of fast have followed with announcements of protest dates, modalities and venues, pending permission for any of these. Parliament is being sought to be stampeded.

The Standing Committee Report recommends a viable and practical clutch of measures which, if adopted, will provide a sound and strong anti-corruption mechanism though not in the shape of a single, top heavy, monolithic entity. The 17 minutes of dissent notwithstanding and the Opposition's determination to embarrass the Government, all those interested in grasping the nettle of corruption will hope that the country will not be let down for the sake of petty partisan gains.