Home
About the author
Gentleman crusader
List of articles
Books
Jamila Verghese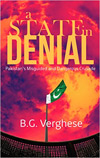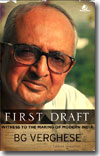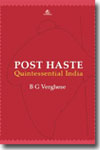 At another level, governance and development are being stalled as many politicians, bureaucrats, trade unionists and environmentalists have turned Luddite and would wish to sanctify colonial administrative procedures and the status quo as holy writ.
Hopelessly

Mired in the Past

To move forward it seems the country repeatedly looks backward citing history and epics, confusing sentiment with reason.

By B G Verghese

Deccan Herald, 8 April, 2012

India is hopelessly mired in the past at every level. Fundamentalists and moral censors, whether Hindutva, Islamic, Christian or Sikh, seem tirelessly to seek the future in the past, one recent Deoband fatwa for example endorsing the validity of Muslim divorce by instant triple talaq even by a drunken husband and another declaring beauty parlours un-Islamic. Now some want the Supreme Court to declare the Ram Setu, a submerged geological formation in the Palk Strait, a national heritage monument forever to preclude dredging a navigation canal through it. Others would want the Ganga to remain a free flowing river up to Haridwar. Sentiment is cited, not reason.

The Government too has much to answer for endlessly delaying execution of death penalties and disposal of mercy petitions. The latest example is the wholly contrived controversy over the pending execution of Balwant Singh Rajoana, the back-up suicide bomber in the Khalistani assassination of the Punjab CM, Beant Singh in 1995. The mercy petition here has been moved by elements close to the SGPC and Sikh religious hierarchy though Rajoana has himself has insisted on being hanged. The Akali patronage of residual Khalistani sentiment is playing with fire.

At another level, governance and development are being stalled as many politicians, bureaucrats, trade unionists and environmentalists have turned Luddite and would wish to sanctify colonial administrative procedures and the status quo as holy writ. As a parliamentary reporter over many years just after Independence, I was amazed by the veneration accorded to procedure. Performance simply did not matter. All the early "scams" revealed by the Public Accounts Committee were labelled "procedural irregularities". Process mattered irrespective of outcomes. Good outcomes were suspect if they defied some hallowed process. Thus, industrial production in excess of licensed capacity would be adversely noticed in annual administrative reports. The malaise persists.

Every status quo spawnsvested interests. Perambulatory files filled with sundry notings, precedents and superfluous signatures leisurely progress up and down administrative hierarchies to delay decision making. Things may have improved somewhat only to get tangled in higher levels of Parkinsonian process. How much of the Moily Report on administrative reform, only one among many general and specific reform efforts, has been taken on board? Police reforms crawl along. The Sachar Report's key recommendation in favour of moving from reservations to an Equal Opportunity regime, remains pending. Turf wars can be devastatingly destructive of action.

Three agencies under strong administrators bucked the trend: the Atomic Energy Commission under Homi Bhabha, ISRO under VikramSarabahi, and the NDDB under Verghese Kurien. All have flourished. Sadly, the pattern did not spread with most others becoming prisoners of "the system". The same "system" has trapped the armed forces in antiquated and inefficient structures, procurement and indigenisation procedures, information muddles and civil-military and inter-service rivalries. The latest contretemps over the so-called January alert on allegedly suspicious troop movements – officially dismissed as rubbish or as part of a conspiracy to discredit General V.K.Singh- and the petitions against the appointment of the recently-announced successor to the present Army Chief are also products of internal fissures and systemic failure.

Rather than pretend that all is well and sweep uncomfortable questions under the carpet, this is the time to clean the Augean stables and make long needed structural reforms in higher defence management, procurement and indigenisation. The key, however, lies in integration and appointment of a chief of defence staff and formulation of a sensible national information and communication policy.

A group of eminent lateral-entry technocrats into government and corporate leaders have also (once again) appealed to the powers-that-be to liberate them from the stranglehold of bureaucratic red tape if India is to accomplish anything. This does not imply carte blanche to pursue sectoral or personal interest but to serve the greater common good and speed progress, seize opportunity and not merely restore but accelerate investment and growth. The sad passing of P.S. Appu, a great civil servant of integrity and dedication who did all he could to push land reforms, comes with news that a high powered land reforms committee set up under the Prime Minister, with the Minister for Rural Development, Jairam Ramesh, as Vice-Chair, has not found time to meet since 2008! Eastern India which should be the nation's bread basket, will not make the grade unless there are agrarian reforms in a region where the feudal hold is still strong.

Procedures do matter but not if they inherently ignore outcomes. The country must be result-oriented if it is to make progress while being mindful of closing the door on corrupt practice. Corruption lies in intent not outcome provided decisions are taken bona fide. However, judgements are too often made ex post facto with the wisdom of hindsight. Bold policy makers and managers who take timely decisions are hounded long after the event. Hence decisions are kept pending or are reopened as there is a premium on playing safe or doing nothing however costly that be. This is why India is falling behind others despite its enormous advantages. This is also why fixers flourish and bribes grease the movement of files.

Further, everything is seen through the prism of short term politics – the next election, nursing vote banks, stalling a rival, garnering money for the next poll. Narrow, short-term politics has trumped economic and strategic decision-making. The UPA government can, however, revive its fast-flagging prospects by pressing ahead with bold reforms that open up the system to investment, opportunity and employment. No other coalition is currently available to challenge UPA-II and no party is ready for early elections. The Government must therefore take the initiative and force the Opposition to veto reform and explain itself to the people.

A further problem is the endemic leakage with complete immunity and impunity of privileged papers and information even before they reach the intended agency or authority. Witness an April 6 newspaper expose based on a "yet to be tabled" CAG Report. Worse, a leaked "preliminary report" of the CAG estimating a notional loss to the exchequer of 10.67 lakh crore on account of discretionary allotments of coal blocks. The CAG repudiated the report as a trial estimate that it had itself corrected/abandoned but the damage was done. This "pre-empting" of definitive findings by preliminary estimates or motivated leaks and plants to set the agenda has become a pernicious habit that undermines good governance, bold decision making and national integrity.

Meanwhile, Orissa and India face the dilemma whether or not incarcerated terrorists/Maoistsshould be traded for innocent people taken hostage by them. Orissa decided to trade 27 imprisoned Maoists for two hostages taken by them, a foreigner and a tribal MLA. This conceded, a factionalised Maoist leadership has asked for more. Negotiations are in progress. It is time for the country to take the hard decision not to yield to terrorists who take hostages. Terrorism cannot be fought by capitulation.