Home
About the author
Gentleman crusader
List of articles
Books
Jamila Verghese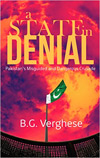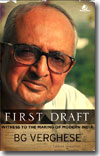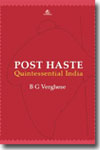 It is a mystery why the Government sat on the Interlocutors' report for seven months before releasing it. Delay has only aroused cynicism and suspicion and added nothing to official wisdom or negotiating strategy. However, it would now be inexcusable not to act fast at multiple levels
From Interlocution

to Action

With the interlocuter reports in, it is time to seize the window of opportunity that has opened for a lasting Jammu & Kashmir settlement.

By B G Verghese

Decan Herald, 3 June, 2012

The Jammu and Kashmir Interlocutors have spoken as have interlocutors before them and others even before those. Dileep Padgaonkar, Radha Kumar and M.M Ansari have done a good job in reaching out to every section of the population in every part of the State and presenting a valuable situation report with recommendations for action at the local, regional, state, national and trans-boundary levels. Previously available were three autonomy reports submitted by the National Conference, PDP and Sajjad Lone and the reports of five Task Forces set up by the Prime Minister. The ground is now well covered. Every nuance has been explored. This is now the time for final consultation and decision. Spoilers should be ignored and while the door should be kept open for all, none can claim a veto.

It is a mystery why the Government sat on the Interlocutors' report for seven months before releasing it. Delay has only aroused cynicism and suspicion and added nothing to official wisdom or negotiating strategy. However, it would now be inexcusable not to act fast at multiple levels – a parliamentary debate, close consultation with party political leaders, a similar legislative and consultative process at the J&K level. This must be accompanied by concurrent action on matters falling within the ambit of administrative and development action, including implementation of such promises as further empowerment of panchayati raj structures. There is absolutely no reason to wait for the next elections, a handy ploy for procrastination.

The basic "New Compact" recommendation is to make Article 370 a "special" rather than a "temporary" part of the Constitution. Articles 371-A to I make special provisions for Maharashtra, Gujarat, Nagaland, Assam, Manipur, Andhra, Sikkim, Mizoram, Arunachal and Goa. Hence, no favour is being done in defining a "special" centre-state relationship for J&K in terms of the solemn and binding commitments contained in the Instrument of Accession.

No sooner was the Interlocutors' Report released than passionate denunciations followed from the BJP and others for this unacceptable weakening of J&K's "integration" with the Union. This is fallacious. Integration is governed not by Article 370 but by Article I and Schedule 1, reinforced by corresponding interlocking and un-amendable provisions in the J&K constitution. J&K's integration with India is therefore absolute. What the Interlocutors have proposed, including a change in the manner of the Governor's selection and reversion in Urdu usage to the nomenclatures of Sadr-i-Riyasat and Wazir-e-Azam, for the Governor and chief minister, are symbolic emollients. Substance matters more than style. As Lenin is said to have told his foreign minister, Maxim Litvinov, who wondered if he should observe bourgeosis protocol and wear black tails and a top hat to a critical conference, "If it will serve the cause, go dressed in a petticoat"!

A review of all extensions of Indian constitutional provisions to J&K after 1953 through a commission directed to report within six months is also in order. Other committees have looked at this matter earlier but no finality was ever reached. A de novo review can therefore do no harm. Under other recommendations, the Governor's power under Article 356 ("failure of constitutional machinery") will be subject to a bar on dissolution of the Assembly and holding fresh elections within three months. The proportion of officers from the All-India Services deputed to J&K will gradually be reduced in favour of local recruits. Three Regional Councils should be created for Jammu, Kashmir and Ladakh. And Parliament shall make no law for J&K unless it entails a matter of internal or external security or vital economic interest such as the Indus Water Treaty. Finally, there is a commitment to promote cross-LOC cooperation.

The fact of existing regional and cultural differences is recognised in recommending the establishment of Regional Councils, District Councils and empowered panchayats with the devolution of considerable legislative powers to each tier. The Gorkhaland Territorial Administration pattern of devolution is cited as a possible example. The State legislative council too should reflect the diversity of the State.

Indo-Pakistan dialogue and interactions at multiple levels are envisaged in furtherance of the so-called Manmohan-Musharraf formula. This would convert the LOC into a permanent but "soft", porous border, as envisaged at Simla in 1972, facilitating cross-border movement, commerce, investments and other exchanges that might structurally evolve into joint management institutions over time. But it will be for Pakistan to open an internal dialogue with the people of PAK and the Gilgit-Baltistan Area, which enjoy rather limited autonomy, if such joint structures are to germinate. On the Indian side, human rights issues, the Pandit's return to the Valley, a judicial commission to look into the matter of "unmarked graves", a review of AFSPA, the Disturbed Areas Act and the Public Safety Act, the withdrawal of security forces from habited areas and vacation of commandeered property have been urged.

Most of these issues have been tossed around for years. What the Interlocutors have done is to tabulate, analyse and prioritise them and suggest a process and timelines for their disposal. The economic and social component of the New Compact is given due emphasis. The creation of basic human and physical infrastructure to realise the human and natural resource potential of the State is of high importance. Perhaps, not enough has been said about harnessing the great new opportunities that beckon with the operationalisation of the Srinagar international airport, the Jammu- Qazigund railway, the new all-weather four-lane Jammu-Sriangar highway and low level Bannihal tunnel, and the accelerated power programme now on the cards. The impacts and outcomes of these developments on income-generation, employment and regional regeneration need to be spelt out in a series of planned packages that are implemented concurrently rather than sequentially.

Fresh impetus can be given to the Indus Water Treaty to everybody's benefit given operationalization of the dormant Article VII of the Treaty titled Future Cooperation. This envisages joint exploration, design, implementation and management of engineering, drainage, ecological and other basin-wide works for the common good, especially now, in face of the challenge of climate change. Radical though this proposition might sound, Dr Manmohan Singh is one person who has had the foresight and courage to hint at such a possibility.

Those who have sought to rubbish the Interlocutors report have nothing better to offer other than tired absolutist arguments. J&K remains an unsettled question with Pakistan. The 1994 Parliamentary resolution defining all of the erstwhile Maharaja's domains reiterates India's legal position until a final settlement is reached. Whenever the LOC is confirmed as the boundary, this will not constitute a cession of territory but will mark the drawing of the final boundary in consequent with Partition as set out by the Supreme Court in the Tin Bigha judgment.

A window of opportunity for a J&K settlement appears to have opened. Seize it.