Home
About the author
Gentleman crusader
List of articles
Books
Jamila Verghese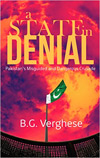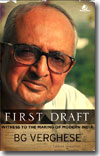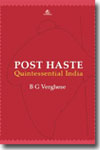 Like all separatists, jehadis and assorted self-determination warriors in PAK and Pakistan, these elements worry that a free and fair poll could mean end game for them, having exhausted every trick in the book.
Elections Equal Self-Determination,

QED

The shadow of Kashmir elections has jehadis and self-styled "self- determination" proponents on the run. It is time to let the people speak.

By B G Verghese

Tribune, September 16, 2008

The Mir Waiz has said that he will oppose elections in J&K, due before January, as he stands for self determination. Reports have him warning main line parties "to fear the wrath of the people" and expulsion from Kashmir if they play "dirty politics" by contesting the polls. This is a brave statement from a man who dares not own up who killed his own father. Umar Farooq claims to speak in the name of the "people". Which people? He appears to have got his arithmetic seriously wrong, for elections truly equal self-determination. And it is elections he fears, as does Geelani and their mentors in Pakistan. So too Mehbooba Mufti of the PDP who, with her father, has made a fine art of running with the hare and hunting with the hounds.

Like all separatists, jehadis and assorted self-determination warriors in PAK and Pakistan, these elements worry that a free and fair poll could mean end game for them, having exhausted every trick in the book. The Indian state just wont go away and the people are fed up with being used as cannon fodder for a "cause" that is becoming less and less attractive and more and more corrupted. The disturbances in parts of Srinagar and elsewhere in Kashmir fetch crowds, zealots and lumpens among them, but it is doubtful if they represent the people in whose name they take to the streets looking for trouble and working themselves into a fury when they invite it. In Jammu, the situation is different. There the Parivar is drumming up hate and regional hostility to build what it hopes will be a winning electoral plank.

Nay-sayers argue that elections cannot be held given the prevailing tension. But these very critics created and now stoke violence with scarcely disguised appeals to religious bigotry and non sequiturs, such as immediate opening of the road to Muzzafarabad for trade as if somebody in India has only to say Open Sesame for a desperately eager Islamabad to oblige. This is not naivety but mendacity. There can be no veto on elections and those who miss the electoral bus must be left to rue their fate. If violence impedes voting, those responsible will need to explain their conduct and face the consequences. Even otherwise, those insistently calling for self-determination and aazadi and looking across the LOC for succour and support, need to examine Islamabad's record of self-determination in PAK, the Northern Areas, the country's tribal belt and, indeed, in Pakistan itself. When confronted with this simple fact, on either side of the border, one is met with sullen silence and a quick change of subject.

This does not mean that issues of autonomy, regional disparity, human rights and development should not be addressed. But the agenda should address real problems, explore doable solutions and look at the future rather than harp on the past. The National Conference has shown the wisdom and courage to seek elections as a step towards conflict resolution, The Congress has been namby pamby, leaving it to the Election Commission to decide, with some mistakenly hoping that a postponed poll may hold out better poll prospects for it in the Jammu region. On the contrary it will signal that the Congress has run away from the battle and has nothing to offer.

The Governor has wisely called for a dialogue and has offered to talk with all elements, including the separatists. The PM's task force reports are on the table along with earlier propositions regarding autonomy and his Amritsar proposal for cross-LOC cooperation to build jointness across a soft border. This should excite the imagination of people and parties on both sides and could give a head start to any proposed Manmohan-Zardari talks to get the peace process rolling again. Meanwhile, the BJP is plumbing new depths of irresponsibility by calling for "nationalisation" of the Jammu-Srinagar-Amaranth route in the name of faith. It has now formally nailed Hindutva to its electoral mast, which Advani will carry on yet another of his divisive yatras. The Congress and other political parties also do no good to anybody by continuing to subsidise the Haj, Kailash-Mansarovar yatra and other pilgrimages that are turning faith into commerce in the name of "secularism". They also recklessly involve government in religious management across faiths, increasingly eroding the distinction between state and religion.

The situation in Pakistan remains extremely fragile as the US bombards terrorist dens in its tribal belt and the IAEA makes more sordid revelations of A.Q. Khan's nuclear blackmarket. As nemesis overtakes Pakistan, which is yet honestly to confront its inner contradictions instead of living in permanent denial, it remains in India's highest interest to support liberal democratic forces in that country. There is absolutely no question of walking out of Kashmir to resurrect the two-nation theory and a second Partition. Wider autonomy and variable regional autonomy, as negotiated, can be conferred through the two-way entrustment mechanism of Articles 258 and 258A which has been creatively exploited in the Northeast. Nor need there be fear of any domino effect. J&K, like Nagaland, is ripe for settlement and is sui generis. The quantum of autonomy is ultimately a matter of trust. Therefore, abandon petty legalities. Build trust.