Home
About the author
Gentleman crusader
List of articles
Books
Jamila Verghese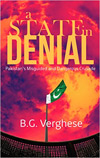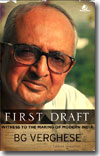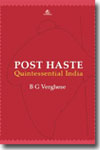 Given better connectivity and power availability, the State Government should think in terms of setting up a series of well-planned townships with good educational and medical facilities and other social infrastructure
J&K:

2013-15 and Beyond

Jammu and Kashmir stand at the brink of change and progress as the rail link presses on. The State could become an IT and electronics hub as well as a food processing zone.

By B G Verghese

Deccan Herald, 15 January, 2012

It has been a good year for Jammu and Kashmir (J&K) with less internal turmoil, jihadis and separatists on the retreat and buoyant tourism. In contrast, Pakistan faces a near-implosion, essentially the backlash of a mistaken foundational ideology of permanent enmity towards India that has engendered radical Islam and militarisation. How things pan out remains to be seen as civil authority struggles to assert itself, but the people of J&K realise that Pakistan has brought them grief. Any viable inter-country settlement must relate to the Manmohan-Musharraf formula of making boundaries (read Line Of Control) "irrelevant" through cross-border movement and exchanges leading to the two parts of J&K, each internally autonomous, evolving into a partial "condominium" within twin, but separate, sovereignties.

The Home Minister plans shortly to unveil the J&K Interlocutors' report for discussion. This internal dimension is best addressed along with the PM's Five Task Force reports submitted earlier. Starting with a parliamentary debate, this is best followed up by and through a steering group with major political party representatives drawn from both the Centre and States and a few Wise Men so that consensus can be built at all stages and levels. The separatists will huff and puff, but none should be allowed a veto. A timeline of one year should help concentrate the mind.
Simultaneously, Omar Abdullah, halfway through his term of office, should now focus on an "Agenda for 2013-15 and Beyond" in anticipation of on-going developments that are going to open up huge opportunities for investment, employment, commerce and income-generation through improved connectivity, greater availability of power and the opening up of new tourist circuits.

The Banihal rail tunnel is through. This should speed work to connect with the Baramulla-Srinagar-Qazigund sector by 2013 and the more difficult Banihal-Katra sector, and Chenab bridge en route, two years thereafter. The shorter, all-weather four-laned national highway from Jammu to Srinagar should also be commissioned by that time. The consequent reduction in the physical and psychological distance between the various regions of J&K and the State and the rest of India will be transforming. An extension from Baramulla to Uri (and beyond to Muzaffarabad) merits consideration.

In the interim, rail-medicars and rail-banks can be provided along the existing Baramulla-Qazigund route on fixed days, extending much-needed facilities to underserved areas.

The existing optical fibre highway, better insulated from the elements, could be extended and upgraded. The international airport at Srinagar too will soon be fully operational. Pakistan has barred Air India over-flights from Srinagar to Dubai, but could be challenged to allow flights from Srinagar to Lahore and Karachi and beyond to the Gulf, while China might be willing to consider services to or over Xinjiang to Central Asian destinations, and Russia to restore connectivity along the old Silk Route across the Karakoram pass to Leh and Srinagar. There is tourism and commercial potential to be exploited, not least by charter flights geared to particular seasons, events and specially packaged tours.

The power situation should greatly improve within the next few years with the completion of on-going projects and improved transmission facilities. J&K plans to repatriate build-operate-own projects like Sallal from the NHPC over the next few years. Further, the State government intends to cure the problem of power theft and high T&D losses by selling electricity in bulk to local communities from designated transformers, making them responsible for distribution, maintenance and billing. Such "communitisation" of elementary education and primary health in rural areas and electricity supply in urban mohallas has yielded extraordinary results in Nagaland, and can be an effective instrument for local participation and accountability in J&K.

A programme of this nature would mesh very well with the promise and need further to empower and upgrade panchayati raj and municipal bodies in J&K. The 80 per cent turnout in last year's panchayat poll shows that ordinary people want development and good governance. Such multi-tiered self-determination would probably meet regional and community aspirations for local autonomy, and provide a salve to embittered intra-regional relations.

Given better connectivity and power availability, the State Government should think in terms of setting up a series of well-planned townships with good educational and medical facilities and other social infrastructure. There is a model for such economic opportunity hubs along the Baramulla-Srinagar-Jammu rail and road corridor in the Delhi-Mumbai Rail Corridor project. This could attract investments, especially in the IT and IT-enabled services as well as in the food processing industry which is going to expand greatly in the years to come. IT-related industries would be weatherproof, and J&K could well become another IT and electronics hub. With its rich biodiversity covering fruits, vegetables, herbs and flowers, J&K has a huge processed foods and pharmaceutical potential awaiting exploitation. Small units could be cooperatives on the Amul pattern apart from promoting contractual partnerships between corporate houses and small produces or suppliers with a variety of backward and forward linkages to serve the national and international market.

Security is often cited as a negative factor. But peace and development go hand in hand, and economic opportunity with suitable training could wean away angry youth from stone-throwing or the gun. The Centre could also offer counter-guarantees for a period of five years against security risks for projects above a certain value. All this could make J&K a major food processing training and R&D centre. Among those attracted back to work and/or invest would be pandits, émigré Muslims who fled the Valley, and the larger J&K diaspora around the world.

Power generation, too, could be enhanced were Article VII of the Indus Water Treaty on "Future Cooperation" to be activated. India has been unable to harness its limited entitlement to the waters of the Indus, Jhelum and Chenab, otherwise fully allotted to Pakistan, because of Islamabad's obduracy. The latter, in turn, cannot build storages in the upper reaches of these same rivers, as they lie in India. Article VII would permit the two sides to jointly construct and manage engineering works on either side of the LOC for optimal benefit on agreed terms of cost and benefit sharing. Nothing would make boundaries more "irrelevant" than such an arrangement.

The best way to exploit upcoming connectivity and enhanced power gains would be to think and plan concurrently, not sequentially, so that no time is lost in encashing the multiplier effect. To this end, the State government should convene a high level "J&K 2013-15 and Beyond" convention with local, national and international participation. Thereafter, a special planning group should refine the programme, breaking it down into discrete projects with necessary land-clearances, a major obstacle to industrial development by non-state subjects at present, and develop a phased master plan.

The opportunity is there. Seize it.