Home
About the author
Gentleman crusader
List of articles
Books
Jamila Verghese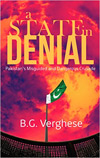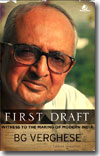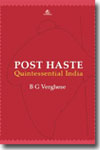 In all the years of the freedom struggle the Congress was inclined towards a decentralised polity built up from village republics on the principle of subsidiarity that Gandhi favoured. That idealistic vision was shattered after Partition.


Towards a

New Federalism

For federalism to work, governors need to be independent functionaries and not the Centre's lackeys.

By B G Verghese

Sahara Times /New India Express, 29 January, 2008

The demand for greater States rights has never been absent in the shaping of the country's federal relations. The Sarkaria Commission was appointed in 1983 in response to such sentiments but did not result in any major changes. Another Commission on Centre-State Relations has now been constituted under former Chief Justice Punchhi to review the situation.

The terms of reference are comprehensive and seek to address the challenges of good governance in an era of economic liberalization, globalisation, the need to enhance democratic decentralization and "independent planning and budgeting at the district level", plan and execute long term mega-projects, link Central assistance to States with performance, enable the Centre to practice positive discrimination in favour of backward states and free inter-state trade to exploit the economies of a unified market. The Commission has also been asked to examine the role, responsibility and jurisdiction of the Centre vis-à-vis major and prolonged outbreaks of communal and caste violence or other social conflict and their bearing on the unity and integrity of the country. It will look into the merits of establishing a Central law enforcement agency mandated to investigate crimes with inter-state or international ramifications that impinge on national security, and the feasibility of deployment of Central forces in States under Article 355 if and when the situation so demands (as in Ayodhya in 1992 and Gujarat in 2002).

In all the years of the freedom struggle the Congress was inclined towards a decentralised polity built up from village republics on the principle of subsidiarity that Gandhi favoured. That somewhat idealistic vision was rudely shattered by the violence and trauma of partition, mass migration and the Herculean task of integrating princely India in the face of much scheming and instigated opposition. In the result, the founding fathers opted for a Union of States with a strong Centre armed with Emergency and residuary powers. A permit-licence raj, foreign exchange controls, regulation of industry, nationalisation and the goal of capturing the "commanding heights of the economy", aided by a powerful extra-constitutional Planning Commission, greatly enhanced Central authority. Despite some protest, much of this passed muster in the early years because of the happenstance of the Congress's single-party dominance atn the Centre and States.. The prestige of Nehru and his peers from the freedom movement also allowed complex issues to be resolved within the "family" by the Congress Working Committee. The death of Nehru and others of the old guard and the emergence of several opposition SVD governments in 1967, followed by the Congress split created a new situation. The 1975 Emergency underlined the dangers of untrammeled power. The misuse of Governors and vindictive resort to President's rule only aggravated matters.

The 73rd and 74th Constitutional Amendments establishing a third tier of governance for rural and urban local bodies and the process of economic reform commencing in 1990 created a new situation. Deregulation, disinvestment and a more relaxed form of indicative planning entailed a loosening of Central power. More important was the rise of numerous local and state parties, reflecting a growing articulation of the nation's hitherto dormant diversity in transition from Bharat to India. An era of coalition governments ensued, not only in many States but at the Centre, making governance in Delhi a far more federal enterprise than hitherto. The air waves were freed and several institutions of state, the judiciary at some times, at others the Presidency, a strong and vigilant Opposition, the Central Election Commission, Vigilance Commissioner, the Comptroller and Auditor-General and the newly formed National Human Rights Commission have variously asserted their authority. The information and communication revolution, the growth and instant reach of the media and the legislation of the Right to Information have further empowered citizens and seen the rise of civil society. Public opinion, national and global, can no longer be ignored.

Meanwhile, the first linguistic reorganization of States was followed by the creation of more states and autonomous units within them, first on an ethnic basis and subsequently for reasons of more equitable regional development and keeping in mind the optimality of administrative size. The demand for new state formation continues, with Telengana, Vidarbha and Harit Pradesh among the latest candidates. Ms Mayawati has more recently offered to get a resolution adopted in the Uttar Pradesh Assembly for the state's trifurcation into Western UP, Bundelkhand and Eastern UP if the Centre indicates its willingness to go ahead with such a proposal. While this suggestion has been seen to be motivated by considerations of electoral advantage, there is little doubt that more states should come into being on administrative and economic considerations. With the population likely only to stabilise at around 1650-1700 million, India could do with 50-60 or more states and mabye 1000-1200 districts in course of time, with active Zonal Councils, as originally envisaged by the SRC, to foster regional coordination.

Participative and responsive government is more likely under smaller units with more broadly empowerd panchayati raj institutions buttressed by greater responsibility and funding for district level planning from below, such as is being experimented in Kerala. MLAs and the bureaucracy tend to feel threatened by decentralization and this is a mindset that will need to be coaxed and coerced into compliance. Vesting the Central Election Commission with electoral jurisdiction over local body elections, through regional election commissioners, as already provided for, would be salutary.

Equally, with over half of India likely to be living in cities by 2040, many of them in mega cities and vast conurbations and along major transport corridors, thought must be given to urban government which is in a mess with multiple authorities and no hinterland from where cities draw essential services including water. The existing metropolitan planning authorities are inadequate and the real estate mafia must be brought to heel. Innovative ways will have to be found to rethink spatial town and country planning with mass transit and intranet connectivity and to forge a healthy and mutually reinforcing nexus between large cities and the surrounding countryside. China, South Korea and South Africa have experimented with such ideas, including decentralised city governance.

The "nationalization" of major inter-state rivers to avoid water disputes is constitutionally permissible but better avoided. A more viable option could be rigorous (water) conservation and demand management, including suitable crop planning, economic pricing and reliance on water markets with appropriate guidelines and safeguards, and the institution of consultative water parliaments to facilitate basin or natural resource region planning without the intersection of administrative and political boundaries.

Governors must be truly independent heads of state and not Central or Party lackeys as many have been. They have been charged with a critical constitutional responsibility and powers for the governance, peace and tranquility of Fifth Schedule (tribal) areas which most have failed to discharge adequately, partly for lack of proper instrumentalities for so doing. This is a huge lacuna that must be overcome if Naxalism is to be effectively tackled. Administrative structures must also be modified to provide for a specially selected and encadred, field-oriented, single line administration for these areas and the Northeast and mountain states on the model of the old Indian Frontier Administrative Service, if there is to an effective administration and delivery system.

The list can go on. The constitution of the Punchhi Commission offers a rare opportunity for a sensible reordering of Centre-State relations that should not be muffed by partisanship or indifference.