Home
About the author
Gentleman crusader
List of articles
Books
Jamila Verghese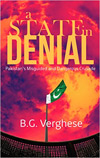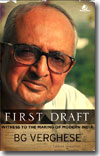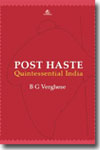 Even from the public record it can be seen that Modi's language was vitriolic and anti-Muslim, matched by a coy silence when cornered as he was by the Editor's Guild Fact Finding Team of which this writer was a member
Lies

, Damn Lies, And .

...statistics. The latest SIT closure report on the charge of Modi's culpability falls into the category of clumsily contrived "damn lies".

By B G Verghese

New Indian Express, 13 May, 2012

It has been famously said that there are lies, damn lies and statistics. One need not split hairs about the official statistics pertaining to the 2002 Gujarat riots. They were certainly not uncooked. But the latest SIT closure report by R.K. Raghavan on Zakia Jafri's charge of Modi's culpability certainly falls into the category of clumsily contrived "damn lies". The glaring contradictions evident in its preliminary report of 2010 in contrast to its closure report in May 2012 stick out like a sore thumb with witness after witness going back on or embroidering on what they had initially deposed.

Even from the public record it can be seen that Modi's language was vitriolic and anti-Muslim, matched by a coy silence when cornered as he was by the Editor's Guild Fact Finding Team of which this writer was a member. The SIT says that a unanimous decision was taken to ferry the Sabarmati Express dead to Ahmedabad at a late evening meeting of ministers and officials in Godhra presided over by the chief minister but Modi cannot be held personally responsible for this flagrantly provocative incitement to violence. The District Collector Jayanthi Ravi, whose call it was, had objected but was overruled and her subsequent enforced silence is now cited by the SIT as consent. Is it the SIT's conclusion that "Chhote Sardar", as official press notes eulogised Modi, was not the masterful Lion in charge as always claimed, but just a pathetic little puppet?

Meanwhile, as the bodies processed to Ahmedabad through the night and the Sabarmati Express, less the burnt coach S-6, proceeded to its destination disgorging distraught and vengeful passengers, including karsevaks returning from Ayodhya, at every halt, the VHP and BJP declared a Gujarat bandh for February 28; mobs gathered on the streets, swelling by the hour. The stage was set for the not-so-unplanned holocaust that followed, as revealed by Prof K.K.Shastri, the Gujarat VHP chief's, interview with Sheela Bhatt that was carried by rediff.com.Modi did nothing to restore calm or make the necessary police bandobust to avert what followed. Rather, he incited it. In a broadcast over Doordarshan and AIR on February 28, 2002, he said "Gujarat shall not tolerate any such incident. The culprits will get full punishment for their sins. Not only this, we will set an example that nobody, not even in his dreams, thinks of committing a heinous crime like this". A day later, he broadcast that "if raising issues related to justice or injustice adds fuel to the fire, we will have to observe restraint and invoke peace". In simple language this implied that if "people" (read Muslims) wantedpeace, let them not ask for justice.

That has been the recurrent theme. Do not reopen old wounds. Forget the past. Move on. Gujarat is shining. Avail of the new development and employment opportunities.

The SIT denies that on February 27,Modi instructed his officials toallow Hindus to vent their anger on the Muslims without hindrance and argues that even if said in private thiswould constitute no offence. This is unmitigated nonsense and parallels the then Attorney General's statement in 1975 that even custodial murder would necessarily go unpunished under Emergency regulations. It is astonishing that an SIT that descends to such puerile averments should be taken seriously on anything at all.

Further, on the murder of Ehsan Jafri, the SIT ties itself in knots. It cites Modi as saying that Jafri's firing on the mob, provoked the crowd to "react", leading to the burning down of the Gulberg Society, roasting alive Jafri and some 70 other Muslims. But what provoked Jafri's "private firing", even if that assertion is true? The SIT says Jafri fired in self-defence when a mob of some 10-20,000 Hindus, "armed with deadly weapons", started pelting stones at the Gulberg Society preparatory to a full scale attack. All around the city was burning and Ehsan Jafri had been sending urgent telephonic appeals for police help for several hours to no avail. If he finally fired at the mob in a last act of desperation to prevent a massacre, was this a "provocation" as described by the SIT. This is perversity of a high order and Raghavan has much to answer for. The amicus curaie, Raju Ramachandran, has however opined that Modi's role merits investigation. It certainly does.

The Guild team contemporaneously queried Modi about the State's total inaction against the targeted destruction of dargahs and shrines, threats and insults to two serving Muslim High Court Judges, the attack on two Muslim-related government offices in the Old Secretariat in Gandhinagar, the failure to pull up leading Gujarati newspapers that resorted to wanton lies, distortion and brazen incitement in poster headings, the transfer "on promotion" of police officers who bravely stood their ground and maintained the peace in areas under their charge, and the curious and questionable presence of two ministers and a third stranger in the Ahmedabad, Gandhinagar and Godhra police control rooms. He did not even have the pretence of a coherent response. The much-loved, landmark dargah, Wali Darwaza, was razed and the site paved overnight by the municipality to improve traffic flows at a busy intersection! In every case, Modi, concurrently the State's Home Minister, was too busy to know or to intervene. Relief and rehabilitation was even resisted by the State with Ministers refusing to have refugee camps sited in their neighbourhoods. FIRs were not filed. Criminals were not booked while their victims were arrested.

An economic boycott of Muslims was imposed. Muslim stores were looted in Ahmedabad. Walls went up to divide Hindu from Muslim neighbourhoods along "borders" beyond which lay "Pakistan". Official press notes from the State Information Department betray extraordinary callousness in extolling trivia while masking the ugly facts. Not one word of sorrow or sympathy escaped Modi's or the Government's lips over the genocidal sufferings of Muslims as analysed in the Guild report.

Modi fiddled while Gujarat burned as did his mentor, Advani, Union Home Minister. The VHP was on the rampage and played a particularly heinous role. Against this, every impartial witness, the national media, the National Human Rights Commission, other independent commissions of inquiry, voluntary relief agencies and rights' groups saw murder and mayhem everywhere. So did the Prime Minister, Vajpayee, who called on Modi to observe his raj dharma and then supinely caved in to party pressure. The Supreme Court was appalled and ordered impartial investigations and hearings outside the State. Since then, witnesses, honest officials and others who turned against Modi have been hounded, even mysteriously killed.The so-called investigations seem oblivious of or unconcerned about cardinal facts while the Nanavati Commission farcically goes on for ever, dancing around the mulberry bush.

At another level, one sorrows at the growing intolerance of political stuntmen and busybodies over non-issues such as an old Ambedkar cartoon in an NCERT textbook and the grounding of Air India through crass pilot greed and mismanagement. Meanwhile, the nation eagerly awaits May 31 which will hopefully see the close of one of the most disgraceful chapters in the proud history of the Indian Army under its current leadership.