Home
About the author
Gentleman crusader
List of articles
Books
Jamila Verghese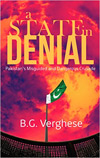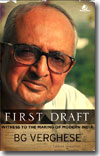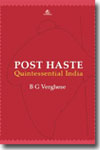 Peace without justice and dignity and compromise with wrongdoing is a travesty. Muslims have been similarly ghettoized and cordoned off by walls, as in Ahmedabad. How long do we tolerate blatant assaults on the Constitution?


Keeping Faith With

the Constitution

The Supreme Court's dismissal of frivolous cases against artist M F Husain is to be lauded. The question is, what kind of India do we want?

By B G Verghese

Tribune, 12 May, 2008

We have been hearing a good deal about faith in one way or another in recent weeks but not nearly enough about keeping faith with the Constitution. It was therefore very reassuring to read the judgement of Mr Justice Sanjay Kishan Kaul of the Delhi High Court dismissing the many frivolous cases filed against the country's greatest painter, M.F. Husain, aged 92, who has been hounded into exile for the past many years by bigots. The charges relate to the artist's canvasses depicting Hindu gods and goddesses in the nude and are based on alleged offence to morals (prudery) and faith (blasphemy). The Court dismissed these insinuations as reflecting the "new Puritanism" of ignorant minds which threatens national regression that could take the country back into the pre-Renaissance age.

The Judge pleaded for magisterial restraint and maturity in admitting vexatious complaints that affect individual freedom. Hopefully, this will become the norm, backed by legislation that penalizes such suits as recommended by the Law Commission. Husain still has three other such cases pending against him. These too need to be speedily set aside and the Husain allowed to return home with honour and security.

In Madurai district, a village wall built by caste Hindus in 1989 to separate them from their dalit neighbours has been partly demolished to allow the latter passage to other parts of the village. Tensions had been building up and reached flashpoint when the upper castes decided to electrify the fence on top of the wall to prevent night time intrusions. Finally, a posse of 1800 policemen had to be summoned to stand by while a passage was cleared through the half-kilometre wall last week. This is no solution for though passage has been granted the affront to the dalits continues. Sixty years after Independence we cannot mollycoddle those who continue to divide society through hate speech and action in defiance of the Prevention of Atrocities Act in the name of maintaining peace and harmony.

Peace without justice and dignity and compromise with wrongdoing is a travesty. Muslims have been similarly ghettoized and cordoned off by walls, as in Ahmedabad. How long do we tolerate blatant assaults on the Constitution by political-criminal mafias and "spiritual leaders" who demean faith? The supine silence and, oftentimes complicity, of the Hindu Right and "clergy" in tolerating such social evils that disfigure Indian life rather than campaign relentlessly against them, as some like Swami Agnivesh tirelessly do, is deplorable and cannot be extenuated. It is time we heard of a BJP rath yatra to cleanse society of these shameful practices that besmirch India.

The Ram Sethu issue is still in process of litigation and one continues to hear passionate arguments confusing faith with secular reality. Faith does not require legal proof. If millions believe in something, it is nobody's case that this should be disregarded within the bounds of the law. None therefore questions the belief that the Ram Sethu was built by the vanar sena to carry Rama's army across the sea to Lanka. This belief remains totally untouched even if a small channel is dredged to permit navigation through a section of the underwater marine ridge formed aeons ago in geological times. Who is preventing worship at or veneration of any of the sacred sites associated with the Ramayana? In one State in the United States, teaching the theory of evolution is taboo on account of the local belief that this is offensive to the Biblical story of creation as told in the Book of Genesis. Similarly, belief in Christ's virgin birth is based on faith to signify divine sanctity; but does anyone accept this as biological fact? Do we then want to become prisoners of irrationality in India where every river, mountain, forest, sea and so much else is held sacred? Respecting belief is very different from being imprisoned by it.

The past weeks have seen other kinds of irrational behaviour. The Health Minister Dr A. Ramadoss has been put to shame by the Supreme Court which has described the removal of the former Director of AIIMS, Dr P. Venugopal, as arbitrary and illegal. This was a case of personal vendetta as Dr Venugopal had expressed opposition to forcing additional reservation of OBC seats in this national institution. Yet Dr Ramadoss remains, belligerent and unashamed, like Mr Baalu, the Shipping Minister, who has been shown up for nepotism, pushing for favours to his sons in the allocation of gas supplies over many years. He too remains in office. There is so often little understanding of or adherence to the Oath of Office that Ministers take "to do right to all manner of people in accordance with the Constitution and the law, without fear or favour, affection or ill-will".

What kind of India do we want? Are greed and social rage to be the norm, bringing violence and disharmony in their wake? Raj Thackeray's goons threaten all Bombay-named institutions to rename themselves "Mumbai", or else. Does the West Bengal Governor, Gopal Gandhi, merit vilification for ordering a daily two-hour blackout in Kolkata's Raj Bhavan to share the load shedding imposed on the city? Left Front spokesmen have described the Governor's action as a gift to the Opposition on the eve of panchayat elections by exaggerating the power crisis and indulging in sanctimonious posturing since he does not use the Raj Bhavan grounds to grow more food and bring down prices or walk to his appointments in the city in order to save oil. Where have values fled?