Home
About the author
Gentleman crusader
List of articles
Books
Jamila Verghese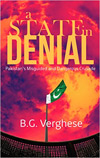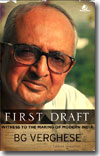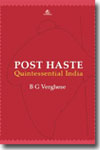 Within hours of the tragic Assam blasts, some party spokesmen, Advani among them, launched diatribes against Bangladeshi immigrants, HUJI, the Government et al on the basis of hunches without specific evidence as though rallying a lynch mob.


Communalism and Terror

Combine in New Threat

Combating terrorism requires cool heads and sober leadership, not lynch-mob rhetoric and finger-pointing.

By B G Verghese

New Indian Express, 3 November, 2008

Elections, alas, are normally a season for name calling. But there are things that should be above electoral mud-slinging, national unity and integrity for one. Atal Behari Vajpayee hinted at this last week when he called for a collective war on terror after the Assam blasts. This is sage advice as the Assam and Malegaon bombings point to terror and communalism mutating into an even more deadly social virus.

Crises call for cool heads. Unfortunately, many so-called leaders are instead at their shrillest, with rhetorical thunder and invective replacing constructive thought and action. Is it any wonder then that people, certainly lumpens, go berserk and n indulge in vandalism and arson. Such crude responses play into the hands of the "terror-coms" (communal terrorists) and act as their force multipliers. And so when a Lalu and Paswan rant and unreasonably demand a judicial inquiry into the killing by Maharastrian police sharpshooters of a deranged and dangerous gun-wielding North Indian youth aboard a Mumbai bus, they serve no cause by such theatricals and give the Thackerays the last laugh. Nor does Sharad Yadav win any points for saying that JD(U) MP's will resign unless the admittedly shocking beating-to-death of another North Indian labourer in a suburban train by Raj Thackeray's MNS goons is answered through a CBI probe, a ban on the MNS and Shiv Sena, and fresh elections in Maharashtra. The MP resignation tamasha, started by Karunanidhi, appears to have become contagious and competitive. Such histrionics merely complicate resolution of real issues that are complex and highly sensitive in themselves without getting entangled in irrelevant side shows.

Within hours of the tragic Assam blasts, some party spokesmen, Advani among them, launched diatribes against Bangladeshi immigrants, HUJI, the Government et al on the basis of hunches without specific evidence as though rallying a lynch mob. One 24x7 news channels staged, its own media trial, irresponsibly demanding an instant verdict on whodunit in response to which one panelist described the bombings as a "war on Hindus" and declared that if the Government did not know who was responsible, it must resign. The anchor pronounced that there could be a Chinese hand as Beijing would be happy if Assam burned. Fortunately two other guests retorted that eschewing finger-pointing without hard facts did not imply pussy-footing. The police need time to investigate and the law must be allowed to take its course. Two days later, a new organisation calling itself the Islamic Security Force-Indian Mujahideen took responsibility for the Assam bombings. The broadcast self-regulatory authority recently set up would do well to take up the Mumbai and Assam episodes as case studies.

Police leads in respect of the Malegaon-Modasa blasts in Maharashtra suggest the involvement of the Bajrang Dal and VHP and other Hindu right extremists, among whom Sadhvi Prayaga, photographed beside the BJP President, Rajnath Singh, and the Bhonsla Military Academy in Nasik are being probed. Here again, it would be premature to rush to any conclusion pending further investigations. But interestingly, the BJP-Parivar line underwent a sea-change as soon as they felt the heat. The new line is that "terrorists have no religion". To label people generically as Muslim or Hindu terrorists is to slander whole communities, the vast majority of whom are peaceful, law abiding citizens living in harmony with their neighbours irrespective of faith. Hence the anguished cry of the Jamia's Vice-Chancellor, known for his secular, plural credentials, not to malign the University because a few students are under investigation for alleged terror activities and that Jamia Nagar should not be further ghettoized.

Equally noteworthy is the BJP-Parivar's latest thesis that a Hindu steeped in "cultural nationalism" cannot be a terrorist. Such definitional logic was earlier used by the VHP and Narendra Modi to brand Muslims and "Miahs" as terrorists. Bal Thackery believes that "every day, Islamic terrorists are planting bombs to kill Hindus in India". With Rajnath Singh, he feels Sadhvi Pryaga "is being framed" but argues that. like some ex-military personnel also under investigation for the Malegaon blasts, she cannot be blamed if she did indeed plant some bombs. If secularists can love Afzal Guru, why should not Hindus love the Sadhvi and others of that ilk! Can anything be more sick? Advani, however, rightly maintains that any member of the Parivar found guilty of terror-links, must be punished under the law. The survivors of the Nanded explosion that occurred while they were making a bomb in April 2006 have been charged by the Maharashtra Anti-Terrorist Squad with being Bajrang Dal activists who had executed three earlier bomb blasts in mosques in 2003 and 2004.

The Prime Minister has again said his government is not soft on terror even while pleading helplessness in dealing with the MNS-Shiv Sena and getting the Congress-NCP coalition in Maharashtra to act. Alas, failure to act ab initio has created the monster that now yells defiance at constitutional norms. Electoral calculations can be no excuse to tread softy and, hopefully, no further license will be granted to those preaching hate and violence. If Dr Manmohan Singh were to broadcast over AIR and Doordarshan and call the nation to order, he will surely get a response.

Concerted action is required to heal wounds in Orissa, Karnataka and wherever Christians have been targeted. Despite her dreadful ordeal, the nun raped in Kandhamal will hopefully come forward to assist the on-going investigation in the manner a 14-year old German girl has bravely identified the assailant who raped her in Goa. It is also for inquiry why no or very few complaints have ever been filed under the draconian anti-conversion laws extant in several states even as "re-conversion", with ample evidence of force and fraud, flourishes openly. The National United Christian Forum has reportedly written to Catholic, Protestant and Evangelical Fellowship of India church leaders calling for close scrutiny and introspection on "un-Christian activity" by anybody in the matter of proselytisation. It must be hoped that all churches, including those representing some of the newer denominations active in the country, will respond positively. Nor should all church associations hesitate to come together to dialogue with leaders of other faiths to establish the basis for a common approach to secularism and fraternity in a deeply religious and highly plural society. Would a standing inter-faith council help? And should not comparative religion and cultural appreciation be taught in all schools and as a university discipline?