Home
About the author
Gentleman crusader
List of articles
Books
Jamila Verghese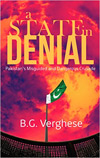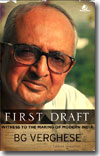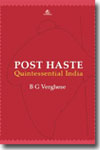 As for terror alerts, these are in order. Major events that attract large crowds high value targets that offer global publicity. The Australian Prime Minister's public alert and travel advisory to her people was, however, more likely to cause panic than offer reassurance regarding an event in which her country is heavily involved and in which its athletes are participating.
Let The Games

Begin

There can be no excuse for corruption and shoddy work but the proof of the pudding is in the eating. Let the Commonwealth Games begin. Meanwhile in Kashmir, come autumn and it's open seasons for gamesmanship.

By B G Verghese

New Indian Express, 27 September, 2010

Things go wrong. It's sad, but life's like that. This is not to extenuate folly, incompetence, sloth, greed or graft. But endless self-flagellation is destructive and not remedial. This is regrettably what we have been witnessing in the run up to the Commonwealth Games. Everything has been said, from trashing the Commonwealth and the Games, health and hygiene to falling bridges and false ceilings, terror and the end of a bumbling India.

Some things were clearly not done well or on schedule. But these are being corrected and, at the end of the day, there is reason to hope that the Games will go off well and the facilities created will be a credit to India and a boon for the citizens of Delhi. We shall overcome. But we must learn the appropriate lessons, coordinate better and punish the guilty and corrupt when the Games are done.

There can be no excuse for corruption. But anger over the amount spent – Rs 70,000 crore has been mentioned - is a case of inflation by conflation. The Games, that is the stadia, Village and appurtenant works, will cost only a fraction of whatever is the correct final figure. The balance is attributable to infrastructure that Delhi needed and was in the pipeline but was hastened by the Games. This would include the new Airport, metro extensions, a new mega power station, much road widening, flyovers, et al.

There have been glitches – and have occurred elsewhere around the world on many occasions. These have been blown up beyond all proportion, unfortunate though they were. No allowance has been made for the unprecedented monsoon and floods over North India, with Delhi getting possibly more than double its normal annual rainfall just in September. Public competition in whining, bad-mouthing and groveling should have been avoided. Let the Games begin. Watch them; enjoy them; cheer them. Judgements will follow.

As for terror alerts, these are in order. Major events that are dispersed over a wide area and attract large celebratory crowds are low-cost, high value targets that offer high global publicity. The Australian Prime Minister's public alert and travel advisory to her people was, however, more likely to cause panic than offer reassurance regarding an event in which her country is heavily involved and in which its athletes are participating.

Amidst all of this, it is singularly unfortunate that a body calling itself the Akhil Bharatiya Jat Arakshan Sangharsh Samiti should announce a plan for "guerrilla action" against the Games from October 3 to press the case for job reservations for Jats. The Samiti plans to smuggle herds of cattle into the city, interspersed with unruly protestors at over a hundred points, to disrupt traffic around Games' venues. Such anti-national mischief must be put down with a firm hand. It is not "peaceful protest", a phrase much heard in many different contexts these days. The announcement proclaims the resurgence of caste for narrow political and personal ends at the cost of common citizenship and equal opportunity. It is in this milieu that the Government has tragically caved in to the cynical demand for a caste census for all the wrong reasons.

Come autumn and it's open season for gamesmanship in and on Kashmir as well. For this is when the UN General Assembly meets and the stage is set by spoilers to generate a sense of renewed crisis so that due notice can be taken of this issue at international fora. The UN Secretary General has spoken. The OIC has passed its ritual resolution. The two houses of Pakistan's national assembly have demanded that India end violence in "occupied Kashmir", expressed full support for "the struggle of the Kashmiri people" and called upon the UN to implement its resolutions on J&K from which Pakistan itself walked away on Day One. This year there is the further agenda of attempting to queer the pitch in view of Obama's November visit to India.

This is not to deny a measure of misjudgment and overkill in handling protests in Kashmir since June, until when the situation was peaceful, with tourists flocking in, the Amanath Yatra well begun and the resumed Indo-Pakistan dialogue on track. What happened thereafter is known, with the death, howsoever unintended, of a young schoolboy hurrying home that fanned a further protest, leading to more deaths (for lack of non-lethal crowd control equipment), and yet more protests in a vicious spiral. But there was also a predetermined calendar of demonstrations and marches, seemingly advance placement of stones at target points, and efforts to damage or destroy public property which had to be repelled. Hundreds of security personnel were grievously injured by stone pelters and some innocent deaths of passers-by were caused by protesting youth. Curfew was declared and defied, life was disrupted, education and trade suffered. Medicines and other essential commodities were hard to come by. The economy was hurt. When the police did not stop protestors marching on Eid, there was arson and the state government was blamed for this too!

The disrupters and separatist leaders spurned dialogue, laying down prior conditions and seeking "self-determination " and "azadi", a word with many meanings. Following the visit of the all-Party delegation to Kashmir, when groups of delegates met separatist leaders, the Union Government has announced a slew of measures in response to many pending demands that will be implemented in consultation with the state. These include the release of detained stone-pelters and possibly others held under the Public Security Act, reopening of educational establishments, compensation to families that suffered fatalities, a review of force deployment and of designated "disturbed areas", establishing task forces to look into the grievances of Jammu and Ladakh and a group of interlocutors under an eminent person to commence a sustained dialogue with all sections of the people of J&K. Further measures could follow.

Geelani has rejected the package as eyewash. The starting point for him is his five point acceptance of an "international dispute", commencement of demilitarization, release of prisoners, punishment of security personnel guilty of killings, and an end to arrests and further killings. Here is a distinction without a difference. His announcement of another 10-day protest calendar suggests an obdurate determination to continue fanning the agitation. Hopefully the moderate Hurriyat will participate. If not, so be it. The process now started must proceed uninterruptedly. None should be given a veto; not Pakistan, nor its surrogates in whatever guise. All have had enough time and been given enough rope. Building a national and intra-regional consensus within J&K is equally important and here too none should be handed a veto.

Gamesmanship in J&K is unacceptable. Let the internal dialogue begin. The Manmohan-Musharraf political settlement was postulated on evolving joint mechanisms across what could hopefully become increasingly open borders. That formula remains on the table. If Pakistan rejects this, it will have to answer to its own people for yet another act of self-destructive folly.