Home
About the author
Gentleman crusader
List of articles
Books
Jamila Verghese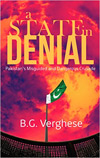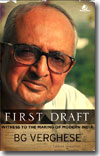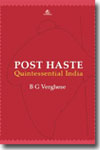 Opportunity was also lost to prune numbers. A council of 79 ministers remains far too large, with key sectors like energy balkanised under rival heads without adequate coordinating mechanisms
Reshuffle, Yes.

Now Get Moving

The cabinet reshuffle was on the whole positive, with younger faces moving up. But some deadwood remains.

By B G Verghese

Deccan Herald, 4 November, 2012

The cabinet reshuffle was on the whole positive, with younger faces moving up. But some deadwood remains. Opportunity was also lost to prune numbers. A council of 79 ministers remains far too large, with key sectors like energy balkanised under rival heads without adequate coordinating mechanisms in place. This is a lacuna in governance that needs to be made good. Ministers of State, unless with independent charge, are underemployed and could more appropriately be replaced by deputy ministers and parliamentary secretaries with genuine devolution as of yore and trained to assume higher responsibilities.

Some commentators condoled with Jaipal Reddy for losing charge of Oil in exchange for Science and Technology. That is a sad commentary on priorities and follows an appointee in a previous round refusing what he considered the petty portfolio of sanitation and drinking water. S&T is a vital sector and requires bold and imaginative leadership. The commitment to collective cabinet responsibility has also steadily weakened to the point where Cabinet decisions are casually disowned by ministers and even senior ruling party functionaries. It will not do merely to grin and bear it. Discipline must be enforced so that a class of bureaucrats stop serving their Ministers rather than the Government.

The defiant irresponsibility of the just retired Army Chief, demanding dissolution of Parliament and implicitly lending support to a call for a Parliament gherao on the issue of cane prices, is a by-product of his being allowed to run riot earlier while still in uniform. He had taken the Government to the Supreme Court after thrice going back on his own assurance of acceptance of May 31, 1950 as his birth date (not 1951 as petitioned), a prior condition for promotion to the last three ranks he held. He then started playing politics by seemingly wooing a certain category of ex-servicemen over some months while on his farewell rounds and going on to unveil the statue of the former prime minister, Chandrashekhar, at an unofficially organised function in Ballia. Charges and counter-charges by and against him on his watch remain under investigation. All the Defence Ministry/Government has done is to sweep matters under the carpet despite the sorry standards being set by somebody who remains something of a military icon by virtue of his former rank.

While a decision to establish the National Investment Board is still pending, Vedanta Aluminium Ltd, a billion dollar investment, recently announced closure of its million-tonne alumina refinery at Lanjigarh, in Odisha's most backward Kalahandi district, pleading lack of bauxite ore. The decision was however temporarily rescinded following receipt of some bauxite supplies. But in what quantum and for how long? With VAL's captive Niyamgiri mining project next door earlier rejected on environmental and tribal rights objections that do not necessarily stand objective scrutiny, the Lanjigarh plant had to import ore of a less satisfactory quality from as far away as Gujarat at high cost. With even these supplies and Lanjigarh's closure now threatened, the livelihood of some 7000-8000 persons, directly and indirectly benefited by the project and its supply and downstream chain of activities, are in jeopardy in an area where this is virtually the only development trigger and employment generator of any significance.

The 121 families displaced from the refinery area have been resettled and 1745 others affected but not displaced have been compensated. By a Supreme Court directive, VAL is required to support a Lanjigarh Project Area Development Foundation over a 50 km radius of the plant by contributing five per cent of its gross profits or US $ 2 m (Rs 10 crore) per annum, whichever is more. Going over and beyond this Corporate Social Responsibility commitment, VAL has thus far spent over Rs 170 crore on a larger Lanjigarh project impact area, through a hospital, mobile health clinics and camps to treat malaria and HIV/AIDS, 36 child care centres and a nutritional service for 1000 pre-primary units. A senior secondary school has been built and a science degree college is coming up. Farm extension services have helped increase productivity and the introduction of new crops like organic cotton. Self-help groups have assisted Dongria Khond women to make and sell leaf-stitched plates. Immunisation, nutrition and school attendance standards have risen. Tubewells have been dug and energised and check dams constructed.

In view of the plentitude of bauxite ore found in the Odisha and adjacent coastal Andhra belt, Vedanta planned to expand its capacity to six million tonnes. That was barred, as was the Niyamgiri mine, on grounds that are unfounded, exaggerated or capable of being remedied. Startlingly, not a single new mine has been licensed in the very rich and extensive Odisha-Andhra bauxite belt for over 30 years. Have the tribals benefited? Not at all. Probably Vedanta has done more in Lanjigarh in less than a decade than the Odisha Government in maybe half a century.

If the refinery is indeed shut down, who will weep and work for the Dongria Khonds and other marginalised communities like them? What have those who clamour to safeguard tribal rights under full media glare done towards restitution of their constitutional guarantees under the Fifth Schedule which have been systematically nullified by the State over the past 60 years? How has that impacted on the environment, and human and forest rights? It has fostered Naxalism. The environment certainly needs to be protected; but mindless touch-me-not "environmentalism" can do much harm. Surely something like a National Investment Board seems necessary to clear the decks for projects long-stalled by multi-clearance delays, retrospective application of rules and so on.

Forty years ago, a hydro project in Kerala's Silent Valley was stopped to preserve this rain forest and its bio-diversity. Now the Western Ghats Ecology Expert Committee under Dr Madhav Gadgil has recommended that a long longitudinal slice of the Ghats, classified in three Ecological Sensitive Zones running through six states, be declared a no-go area for similar reasons: no dams above 15 m, only small run of river hydel schemes if at all, decommissioning of older water projects, no major roads, new railway lines, townships or thermal plants. Existing plantations, it argues, should be phased out in five years. Two proposed hydel projects of 163 MW (Athirapally) and 200 MW (Gundia) capacity in Kerala and Karnataka stand vetoed. This seems excessive and gives little thought to employment and income factors, bio-diversity utilisation, downstream benefits and the consequences of such blanket bans that breed illicit mafia operations.

Meanwhile, the battle for well regulated and controlled experimentation with GM seeds continues with the PM's Scientific Advisory Committee, the Department of Biotechnology and the Agriculture Ministry pleading for more informed scientific debate. The Supreme Court has declined to stop GM crop field trials but in Rajasthan the Government has just ordered closure of a GM mustard crop field trial currently under way. Due caution is unexceptionable; but closing the door on what could be better scientific and technological options to grow more food and fibre is to block national advancement.

India's record on all fronts is sliding. It is time to get moving.