Home
About the author
Gentleman crusader
List of articles
Books
Jamila Verghese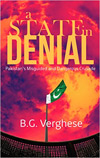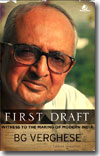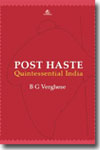 As surprising was Nardendra Modi's prompt announcement of a ban on the sale in or import into Gujarat of "Jinnah" as its publication was supposedly an insult to the Sardar that no Gujarati would tolerate. This is to demean Patel who does not need to be protected by small men who seek greatness by association.


The BJP Loses

The Plot

The BJP has shot itself in the foot with Jaswant Singh's expulsion and lacks coherence and maturity in responding to real issues he raised regarding Jinnah.

By B G Verghese

Deccan Herald, 24 August, 2009

The BJP showed uncanny marksmanship in shooting itself in the foot last week over "Jinnah". It acted foolishly to display small-minded bigotry and then responded incoherently to ensuing criticism from many quarters. Its treatment of Jaswant Sigh, a senior Party member and author of a book that was no sin to write but raised pertinent issues that need to be frankly debated in order that the country learn from the past to guide its future, was cavalier and ungracious in the extreme. Clearly none in the BJP leadership had read the book but felt that any seeming sympathy shown to Jinnah or anything remotely critical of Sardar Patel, was anti-national and must immediately be put down. Nehru was, however, fair game. The politics is as plain as the folly.

As surprising was Nardendra Modi's prompt announcement of a ban on the sale in or import into Gujarat of "Jinnah" as its publication was supposedly an insult to the Sardar that no Gujarati would tolerate. This is to demean Patel who does not need to be protected by small men who seek greatness by association. Advani hardly enhanced his stature by pleading that he remained agonizingly silent because Jaswant had gone against the "core ideology" of the Party. But his own rebuttal of the charge that it was Patel who banned the RSS after Gandhi's assassination in 1948 was crudely denigrative. He said that Patel had been "pressurized" by Nehru, thus suggesting that the "iron man" was a man of straw.

Jaswant Singh's expulsion, which he took with dignity, like the ban on his book, is an exercise in thought-control that is the hallmark of those with fascist and authoritarian tendencies. It is shocking that the Gujarat unit of the Congress welcomed the book ban, which only shows the depths to which competitive politics has sunk at the cost of larger values. This is an assault on freedom of expression and must be both condemned and challenged as an infringement of a cherished fundamental right. Any argument that the reading or sale of "Jinnah" in Gujarat could disturb public order would be a travesty.

The right extremist assault on books, art, drama, film and other forms of expression, culture and creativity has continued unabated and, alas, unchallenged in various parts of the country for years. This must end if we are to remain the liberal and open society that we essentially are. Last week too a college principal and AVBP-affiliated union in Bantwal, near Mangalore, told a newly admitted Muslim undergraduate that she could not wear a headscarf in class as it was a religious symbol. Are then turbans, beards, crosses and hair-tufts to be similarly banned by vigilante groups, who have objected to friendly couples getting together and have used violence to break up inter-faith and cross-gender friendships, let alone marriages?

Assume for a moment that Jaswant Singh had in fact been harshly critical of Patel. So what? Are our political heroes above criticism and do they demand blind obedience to protect them from objective intellectual scrutiny? This is the way of fascism and implies a total disregard for the country's plurality and diversity which is what Hindutva, the renewed BJP-RSS credo after the 2009 electoral debacle, is ultimately about. Advani had a taste of that when he described Jinnah's August 11 address to the Pakistan constituent assembly as the testament of a secularist. That he was. But, having used Muslim communalism as a tactical ploy, Jinnah unleashed a monster that devoured the state he created, much as his successors have done by nurturing the Taliban and jihadi terror.

Few know that Jinnah had become a prisoner of his own rhetoric and in January 1948, hoist with his own petard, pronounced that Pakistan should adopt an Islamic constitution based on the Sharia. Like Jinnah, the BJP, and Advani as its primary spokesman, have become prisoners of a variously defined but toxic and exclusive Hindutva ideology that they simultaneously embrace and reject as convenient. Thus absurd apologias and extenuations for the demolition of the Babri Masjid and the Gujarat carnage, with Advani expressing some kind of sorrow over the first and exerting himself to protect Modi from punishment in the latter instance. And if Jinnah's two nation theory was hatefully communal and divisive, why then eulogise that evil doctrine first propounded by Savarkar in 1927 and later embroidered by the RSS chief, Golwalkar in We, Our Nation Defined. The Parivar's Indian history is layered with humbug.

In seeking to silence Jaswant Singh, the BJP has punished itself. Such credibility as it had has been further eroded and one can see the Party fragmenting or splitting over the next few years. Nationalism is a positive virtue up to point but chauvinism is a clear and present danger, especially when it invades society and culture and becomes the enemy within. The country needs a strong opposition to provide ballast for a healthy democracy. The NDA might have provided that, but the BJP's backsliding into the Hindutva embrace once again suggests that this is unlikely to happen. The Left too is riven with bitter contradictions and has lost any pretensions to holding the moral high ground. That too is suffering erosion and could split.

Either way, the country seems poised for some political re-engineering. Fissures in the Left and Right and deadwood in the Congress have laid the basis for a realignment of forces within and between political boundaries. From this churning could well hopefully emerge new and more vibrant and forward looking political and social formations for the 21st century. A settlement with Pakistan could catalyse such a process. That is why understanding and debating the recent past, as Jaswant Singh has done, is so important.