Home
About the author
Gentleman crusader
List of articles
Books
Jamila Verghese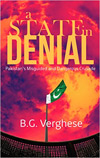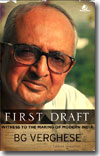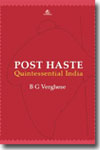 In recent years, Pakistan had emerged as the epicentre of both terror and nuclear proliferation. Most terror trails around the world lead back to Pakistan. But the country remains in denial and pleads that it is possibly a greater victim of terror than anybody else.


Cutting the AfPak

Gordian Knot

Pakistan "confessions" on terror and fresh light on hit-India knee-jerk policies are pouring forth. What is the way forward?

By B G Verghese

The Tribune, 28 September, 2009

Even as the United States last week piloted a unanimous resolution through the UN Security Council calling for universal adherence to the Non-Proliferation Treaty and stricter controls over potential proliferation, London's Sunday Times reproduced the letter A.Q Khan sent his Dutch wife for publication in 2005 as insurance against his being harmed by the Pakistani authorities, whilst under interrogation in Islamabad. He disclosed that he had on instructions from above both supplied and received nuclear-related material and technology from China and North Korea and supplied nuclear technology to Iran and Libya. Further, an ISI functionary, Khalid Khwaja, told Islamabad's ARY TV on September 9 that he had arranged at least five meetings for Osama bin Laden with Nawaz Sharif, former PM, and had himself held over a hundred meetings with the al-Qaeda chief before 9/11. All these "revelations" have been well documented and known for years.

In a season of confessions, President Zardari told retired Pakistani officials on July 7 that "militants and extremists were … deliberately created and nurtured (by the Pakistan State) as a policy to achieve some short-term tactical objectives" (obviously against India and within Afghanistan). These "strategic assets" and "heroes of yesteryear until 9/11 … began to haunt us as well". General Musharraf, currently a fugitive from a treason charge at home, next stated that US military aid given it for the War on Terror was diverted by Pakistan to bolster its defences against India, a fact well established but persistently denied.

In recent years, Pakistan had emerged as the epicentre of both terror and nuclear proliferation. Most terror trails around the world lead back to Pakistan. But the country remains in denial and pleads that it is possibly a greater victim of terror than anybody else. But pleading innocence and blaming non-state actors will not wash as they are still protected and patronized by Pakistan. This is evident in the manner in which the Jamat-ud Dawa chief and former head of the now-"banned" LeT, has been treated as a state guest even as India has provided evidence of his leading role in the planning and execution of the 26/11 attack on Mumbai. That the mastermind was not caught on the spot with a smoking gun has been used by Islamabad to argue that there is not a scrap of evidence against Hafeez Saeed. If so, Osama bin Laden is as blameless.

Despite the most damning evidence of complicity and guilt, Pakistan remains Washington's favourite frontline protégé that can do no wrong. Now General McChrystal, the US Commander in Afghanistan, has reported that "while India activities" ($1.2 bn investment in the country's reconstruction and development) largely benefit the Afghan people, increasing Indian (economic and political) influence is likely to exacerbate regional tensions and encourage Pakistani countermeasures in Afghanistan and India". This is not the first time that the US has advised the world to do more but India to do less in Afghanistan lest this upset Pakistan. The bombing of the Indian embassy in Kabul by suspected ISI agents was one reminder of Islamabad's strange nervous disorder. It believes that Afghanistan is a privileged backyard that it needs for "strategic depth" against imagined Indian machinations.

This totally sick mindset has seen Pakistan symptomatically tilting at Indian windmills since its very inception to prop up a missing self-identity, a pastime regrettably encouraged by the US and Britain. Thus Pakistan's established invasion of J&K in 1947 and violation of its related UN commitments thereafter has been converted into a "dispute" with India. This has enabled it to practice blackmail through blatant nuclear proliferation and state-sponsored jihadi terror, with the knowledge and financial assistance of the US despite spawning the Taliban and its offspring and the spread of lethal arms and drug trafficking in its wake. When the US mistakenly uses 9/11 as the reference point for global terror, it ignores the preceding decades of vicious and bloody terror unleashed by its protégé on India which has suffered enormous collateral damage that is scarcely ever acknowledged.

This charade cannot go on. Hillary Clinton, in a moment of candour while testifying before the Senate at her confirmation hearings, described US policies towards Pakistan and Afghanistan over the past couple of decades as "incoherent". The nature of the "incoherence" was not spelt out but can be listed as permitting the most flagrant and dangerous nuclear proliferation that has gone unpunished, the siphoning away of US arms and finances to build the Taliban to fight the US and India, using drugs as a currency of control and subversion, and providing an inspirational home for exporting radical Islam and related terror.

The Americans now realize they simply cannot win the botched-up war in Afghanistan. What is planned is another "surge", which could well be followed by a declaration of "victory" and withdrawal while Afghanistan burns and is left under Pakistan-Taliban hegemony. The latter scenario flows from the unrequited $7.5 bn dollar military assistance promised to Pakistan over the next five years over and above economic aid. This will further entrench the Pakistan military and ISI in what has become a garrison state at the cost of civil-democratic ascendancy. The critic will denounce this thesis as anti-Pakistani. On the contrary, it is the current US-NATO policy that can be so labelled whereas the "demilitarization" of Pakistan would be a truly pro-Pakistan posture.

The basic fact to understand is that the US is not part of the solution in the AfPak theatre: it is the problem. This does not mean that it should cut and run. On the contrary, it must stay and fund and provide logistical support for a turn around of the mess it has created, and the reconstruction of Afghanistan to follow. A US-NATO military withdrawal will by itself reduce the military heat while a UN-led regional peace keeping and enforcement force takes over. The $ 7.5 bn military assistance to Pakistan could be drastically cut and civil aid to that country made strictly contingent on a genuine withdrawal of the Pak Army to the barracks in its own country except for any legitimate aid-to-civil power role, verifiable disbandment of all jihadi formations and nodal institutions, and an end to state-sponsored cross-border terror. The military and ISI must be brought under civilian control and the powers of National Security Council, that vests the military with civil power, redefined. Equally, a programme for disinvestment or civilianization of the Fauji Foundation and the other military foundations that dominate economic life must be rolled out. Finally, A.Q Khan must be properly investigated and China's nefarious role fully exposed. Aid could be leveraged to achieve these ends.

A regional conference on Afghanistan under UN auspices, that includes Pakistan, Iran, India, Russia, China and Afghanistan's Central Asian neighbors, along with the US-NATO combine, must create a new framework and timetable for peace and reconstruction in Afghanistan with all forces being placed under a UN, not US, command. Both Pakistan and India could play a military role in this peace enforcement exercise. The entire arrangement should have the backing of Afghanistan's Loya Jirga or supreme tribal assembly. This is the way forward. Otherwise, the latest UN resolution will remain another dead letter.