Home
About the author
Gentleman crusader
List of articles
Books
Jamila Verghese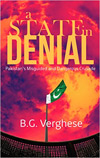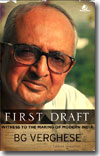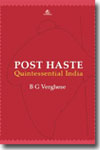 Both Pakistan and Northwestern India are joined at the hip by their common lifeline, the Indus, which is already feeling the effects of climate change. This calls for cooperation, not futile stand-offs.
Acts of God

and Man's Follies

Mayawati immortalises herself in stone while Eastern UP faces drought and Pakistan demurs at Indian aid while flood waters rise.

By B G Verghese

Deccan Herald, 23 August, 2010

I had read about Mayawati's monumental extravaganzas in sandstone and marble, but it took a recent visit to Lucknow to realize the enormity of her folly, affecting the aesthetics of the city and the State's exchequer: Statues, elephants, colonnades and fountains galore, enclosed within endless walls. Some works have been executed and demolished twice or even thrice to satisfy the caprice of the now self-anointed Iron Lady. There is bitter laughter in the streets.

Uttar Pradesh's impoverished millions ask for bread. They have been given stone. Eastern UP and Bundelkhand face drought. Funds that could have gone towards the resuscitation of their blighted farm economy have been wasted in self-glorification. Of course, dalits are still oppressed and Ambedkar and Kanshi Ram merit befitting memorials, especially the former, that others have begrudged building. But education and economic uplift of the downtrodden would be for them and the nation a far greater blessing. What a perversion of priorities!

All of Bihar and Jharkhand and parts of West Bengal have been declared drought affected. Emergency relief and cropping-cum-livelihood strategies must be put in place to avert distress. Yet, why should Bihar or Eastern UP suffer drought? They are not short of groundwater and irrigation systems though shortage of power could be a handicap. Both regions suffer from long-standing agricultural depressors and structural deficiencies related to inequitable land relations, availability of extension services and credit. Nitesh Kumar set up an agrarian reform commission in Bihar under D.R. Bandopadhyay and an education commission under Muchkund Dubey, which recommended common schools. Both reports have been tragically shelved in response to feudal and caste pressures.

A huge freshwater aquifer in seven layers from 1000 to 3000 metres deep, underlying the north Ganga plains between Faizabad and Purnea was hypothesized as far back as 1967, lent confirmation by ONGC's petro-geological deep-drilling core samples, but has been left unexplored despite World Bank offers of assistance through the 1980s. This layered deep aquifer was said to have been formed by Himalayan snow melt and overlain by debris over successive glacial ages. It is believed to be even now replenished by Himalayan recharge and under artesian pressure, which would obviate any energy to lift the water to the surface.

Rather than undertake trial drilling to confirm the hypothesis and establish its parameters – whether recharged, fresh and not mineralized water, under artesian pressure and without risk of causing land subsidence if extracted – the Union Government and Planning Commission have been supine. Earlier, it was feared that if such a rich deep aquifer was established, India would have to make concessions to Bangladesh on Ganges sharing below Farakka! Leading Indian groundwater experts have privately admitted that the evidence of the deep aquifer is sufficiently strong to merit testing. Years have been lost dithering.

Meanwhile, the Centre has scrapped a third hydro project on the Bhagirathi in Uttarakhand, above Tehri, in deference to "religious and cultural sentiment". Environmental concerns relate to high seismicity and the danger of rivers running dry between project sites along run-of-river cascades. The first can and has been taken care of by additional defensive measures incorporated in dam designs while the latter can be made good by stipulating a given ecological release of water below each RoR dam.

The scrapping of the 600 MW Loharinag Pala project, on which Rs 650 crore has already been invested, in the wake of cancellation of the Pala Maneri and Bhairon Ghati projects, has been coupled with a decision to declare the 135 km stretch from Goumukh to Uttarkashi an eco-sensitive, no-dam zone. This seems a populist decision at a time when aberrant weather and cloudbursts, aggravated by climate change coupled with potential discharge depletion on account of glacial melt, call for both greater water conservation and flood and erosive silt detention traps as a means of disaster management. The clean energy generated would be a low-carbon bonus.

Similar backsliding on water conservation and hydro power is evident in Sikkim, on grounds of religious and cultural sentiment. But which river or mountain in India is not sacred? Maintain the site but why sacrifice the human benefit? Assam, in turn, fears dam-breaks in Arunachal and consequential disabilities in the plains, but is singularly without any defence against annual floods that have kept its people and economy in thrall for generations. Lamenting the disease and fighting the cure is folly.

The cloudburst in Leh has taken a grievous toll as have the unprecedented rain storms that have devastated Khyber-Pukhtunwa, Balochistan and Sind in Pakistan. Both Pakistan and Northwestern India are joined at the hip by their common lifeline, the Indus, which is already feeling the effects of climate change. This calls for cooperation, not futile stand-offs. Pakistan's civil government fiddled while furious floods took their toll. As at the time of the Muzaffarbad earthquake some years ago, the jihadis were first off the mark, gaining kudos by organising rescue and relief, followed by the Army –which, a Dawn columnist writes, has labelled its relief packages as "From the Pakistan Army" or "From the Corps Commander" as though the Army represents another country! This, while Zardari was busily jaunting abroad and his government hesitated to accept a first $5m installment of Indian aid in a repeat exhibition of a self-defeating hate-India policy. Yet, the latest ISI threat assessment, that appears to have leaked, puts the jihadis, not India, as "Pakistan's main worry".

Meanwhile, in J&K, new generation youth "leaders" such as Musarat Alam and Asiya Andrabi, draw up week to month-long calendars for mindless stone-pelting protests while in Delhi, Mulayam, Lalu and Gopinath Munde think nothing of clowning in a "mock parliament". They only mock themselves.